100 Million Indonesians Fully Vaccinated: Health Ministry
By
Office of Assistant to Deputy Cabinet Secretary for State Documents & Translation &nbsp &nbsp
Date
8 Desember 2021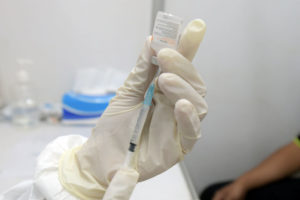 More than 100 million Indonesian people have received the complete dose of COVID-19 vaccination.
As of Tuesday (12/07), as many as 100,033,810 people have received the first dose and the second dose of vaccine, equal to 49% of the total target of 208.2 million people.
According to Our World in Data on December 6, 2021, Indonesia ranked 5th in the country with the highest rate of full-dose COVID-19 vaccination after China, India, the United States and Brazil.
Meanwhile, the first dose vaccination has covered more than 143 million people or 70% of the target of 208.2 million people.
Minister of Health Budi Gunadi Sadikin said that Ministry of Health continues to speed up vaccination drive by joining hands with all relevant stakeholders.
In addition to carrying out mass vaccinations, Ministry of Health has also issued a Circular instructing all vaccination service posts, the Ministry's technical management unit (UPT) such as the port health authorities (KKP), vertical hospital and health polytechnic across Indonesia to carry out vaccination to the people regardless of their domicile.
"Vaccination is one of the most important measures to reduce the rate of the virus spread, thereby reducing the spike in cases and bringing us out of the pandemic. Our vaccination achievements cannot be separated from the social capital of the Indonesian people participating in organizing vaccination drive," Minister of Health said in Jakarta, Wednesday (12/08).
The Government also continues to strive for maintaining vaccine availability through multilateral or bilateral schemes to keep up the vaccine stock and the vaccination rate.
The Minister has called on all Indonesian people to make the best of the opportunity to get vaccinated because vaccination drive and implementation of strict health protocols will protect more people from COVID-19. (PR of Ministry of Health/UN) (RI/MUR)