12 More Regencies Enjoy One-Price Fuel Policy
By
Office of Assistant to Deputy Cabinet Secretary for State Documents & Translation &nbsp &nbsp
Date
5 Juni 2017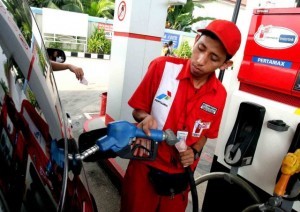 Starting 1 June 2017, people in 12 more regencies will enjoy the same price of fuel as like in other regions including Jakarta, Bogor, Depok, Tangerang, Bekasi, and their surrounding cities.
"Previously, people in those 12 regencies purchased fuel at the price of Rp8,000 to Rp18,000 per liter, but now they can buy fuel with the same price sold at Pertamina's filling stations, which is Rp6.450 per liter for Premium and Rp5,150 per liter for Solar," said Head of Cooperation, Public Information Services and Communication Bureau of Energy and Mineral Resources Ministry Sujatmiko in his press release on Sunday (4/6).
Those 12 regencies are: Nias Selatan Regency in Sumatera Utara, Mentawai Regency in West Sumatera, Jepara Regency in Central Java, Sumenep Regency in East Java, Sumbawa Regency in West Nusa Tenggara, East  Sumba Regency in East Nusa Tenggara, Mahakam Hulu Regency in East Kalimantan, Wakatobi Regency in South East Sulawesi, Sorong Selatan Regency in West Papua, Morotai Regency in North Maluku, Paniai Regency in Papua; and Bengkayang Regency in West Kalimantan.
According to Sudjatmiko, in implementing the one-price fuel policy, the Ministry would build fuel distribution agencies in 150 places in 148 regencies. He added that 54 agencies would be set up this year, 50 agencies next year, and 46 agencies in 2019.
"For 2017, it is planned that 54 agencies will be set up and as of 1 June, 12 agencies in 12 regencies have operated. In mid or end June, there can be even more agencies set up. This one-price fuel policy has been effectively implemented and continued to make progress," Sudjatmiko said.
For the record, the one-price fuel policy program all over Indonesia was launched by President Joko 'Jokowi' Widodo during his working visit to Yahukimo, Papua, on Tuesday (18/10) last year.
The President admitted that this program would bring financial losses to state-owned oil and gas company PT. Pertamina; yet he asserted to remove fuel price disparity, the policy would still have to be implemented.
President Jokowi also believes that with the reduction of fuel price, prices of daily needs in Papua, such as transportation costs, food price, and logistics will also reduced so that Indonesian people in remote areas can keep up with people from other regions.
"I realize that Pertamina also allocated a big amount of money for the program. However, I think Pertamina can compensate (the loss) from businesses in other sectors in oil and gas sector.  This program aims to bring social justice," the President said. (Humas Kementerian ESDM/ES)  (EP/YM/Naster)