20 Innovators Qualified for "MSMEs Digital Heroes" Next Stage
By
Office of Assistant to Deputy Cabinet Secretary for State Documents & Translation &nbsp &nbsp
Date
16 Oktober 2020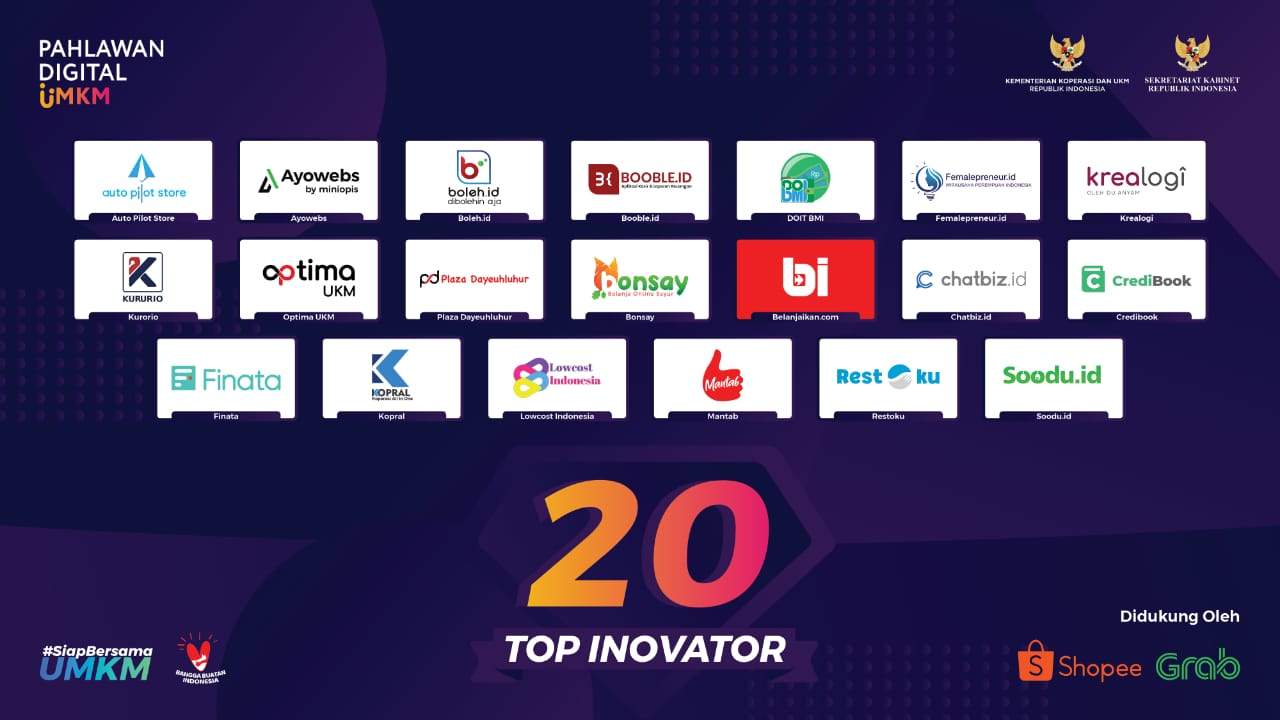 After 3-week boot camp (23 September-9 October 2020) that involved practitioners and professionals in the digital technology, including Facebook, Grab Indonesia, Studio Yord, Tiktok Indonesia, and Recap Indonesia, the jury of the MSMEs Digital Heroes has selected digital innovators qualified for the top 20.
The assessment criteria include vision and mission, business model, team work, founders' qualifications, sustainability, and proven track record of helping MSMEs digitalization.
In addition, during the boot camp, the participants gained knowledge about business engagement, effective marketing campaign, search engine optimization, and also got advice on how to attract potential investors from venture capital.
The top 20 innovators selected by the jury are Auto Pilot Store, Ayowebs, Bonsay, Belanjaikan.com, Boleh.id, Booble.id, Chatbiz, Credibook, Femalepreneur, Finata, Doit BMI, Kopral, Krealogi, Kururio, Lowcost Indonesia, Mantab, Optima UKM, Plaza Dayeuhluhur, Restoku, and Soodu.id. They are digital technology innovators that focus on helping MSMEs in various fields such as marketplace, training and empowerment, financial management service provider, and software services.
Nazier Ariffin, member of the jury, said that all participants must aware that they have played a role that will ignite the next phase of Indonesian SMEs transformation. After seeing the enthusiasm and actions of all innovators, he is optimistic that Indonesia can turn the demographic bonus into a demographic dividend and turn its potential into realization.
Furthermore, the top 20 innovators will take part in the next phase of business pitching before the jury, among others, the initiator of the MSMEs Digital Heroes program Putri Tanjung, Special Staff to Minister of Cooperatives and Small and Medium-sized Enterprises Fiki Satari, and Vertical Lead Facebook Indonesia Aldo Rambie.
The program has a target to choose 10 best innovators to become partners of Ministry of Cooperatives and Small and Medium-sized Enterprises in digitalizing cooperatives and MSMEs. Further information on the program can be found at Instagram accounts @pahlawandigitalumkm, @kemenkopukm and @putri_tanjung. (Ministry of Cooperatives and Small and Medium-sized Enterprises PR/UN)
Translated by: Galuh Wicaksono
Edited by: Mia Medyana B.