991 Civil Servants Found Not Neutral During Elections: BKN
By
Office of Assistant to Deputy Cabinet Secretary for State Documents & Translation &nbsp &nbsp
Date
25 September 2019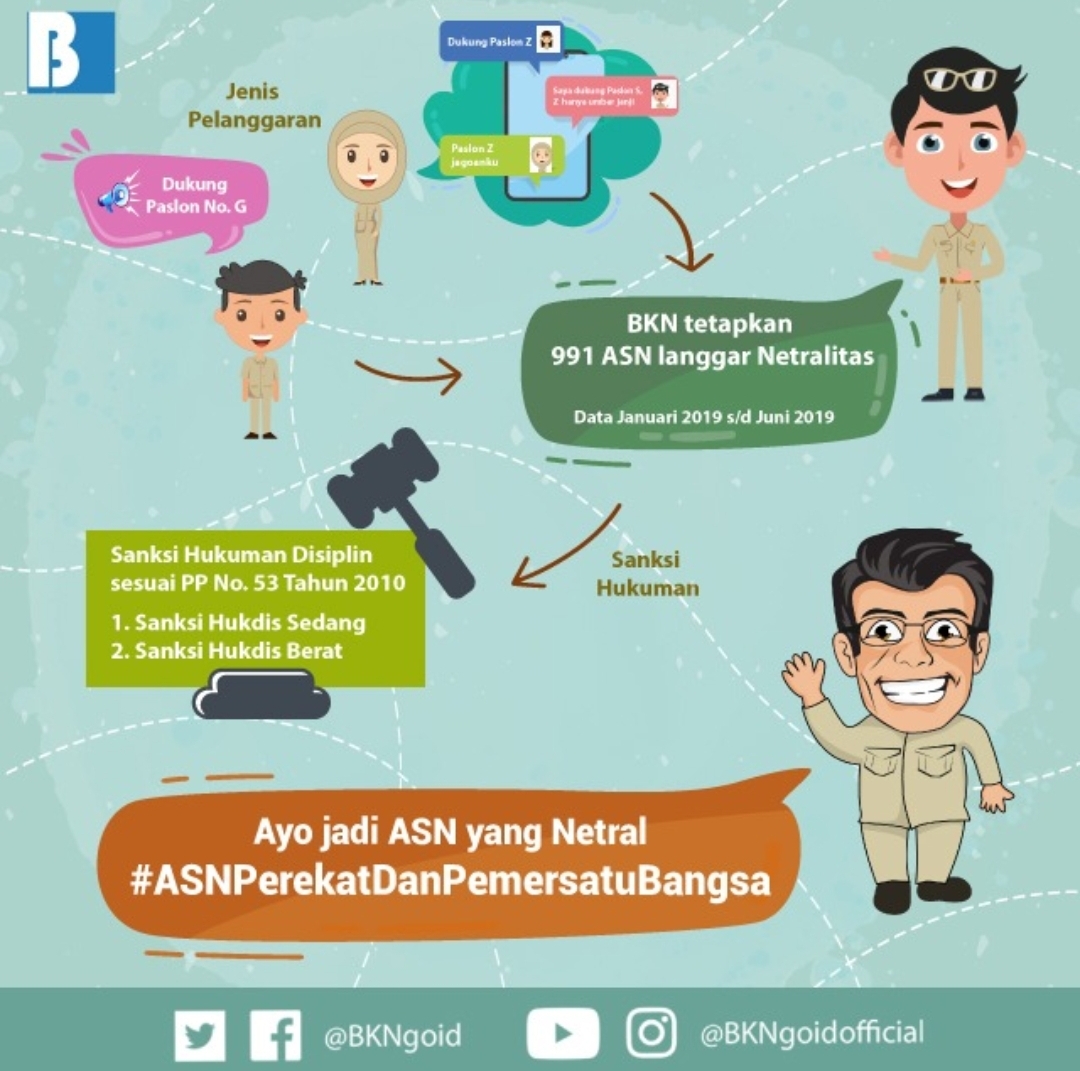 As many as 991 civil servants – locally known as ASN – have been found to have violated the principle of neutrality during elections this year, the National Civil Servant Agency (BKN) has reported.
The agency stated that from the period of January 2018 to June 2019, 299 civil servants were given sanctions, with 179 of them receiving disciplinary sanctions and 120 receiving sanctions for violating code of ethics.

"The remaining 692 civil servants are still undergoing investigation done by their respective agencies and institutions," Head of BKN Public Relations Mohammad Ridwan told a press conference on Wednesday (25/9).
According to him, the BKN has synchronized data on neutrality violations with local government agencies (provincial/city/municipality governments) on 4-10 July 2019, given that 99.5% of the total civil servants involved in neutrality violations are those working at regional government agencies.
Ridwan went on to say that the sanctions for civil servants are regulated in Government Regulation Number 53 of 2010 on Discipline of Civil Servants.
For the record, moderate violations of neutrality principle are subject to the following sanctions: postponement of periodic salary increase for one year, one-year postponement of promotion, and demotion for one year.
In the meantime, sanctions for severe violation of neutrality principle include demotion for three years, job transfer for demotion, discharge from position; and honorably discharged not on employees request (PDHTAPS).
"Other provisions regarding neutrality of civil servants are also regulated by Law Number 7 of 2017 on Elections," Ridwan said.
In the meantime, Head of the BKN Bima Haria Wibisana noted that civil servants must always play their roles to safeguard and unite the nation, adding that the principle of neutrality is not only rule but also fundamental code of ethics for the civil servants in providing public services.
"Civil servants play a pivotal role for the nation and state, which is to unite the nation," Bima said in Bandung last March.
He went on to say that civil servants must also ensure neutrality to maintain the country's diversity of ethnic and religious groups. They also have to ensure their professionalism and non-discriminatory acts in providing public service, he added. (EN/PR of BKN/ES)
Translated by: Ridwan Ibadurrohman
Edited by: Ersan Pamungkas