Agriculture Ministry to Host Fruit Indonesia 2016
By
Office of Assistant to Deputy Cabinet Secretary for State Documents & Translation &nbsp &nbsp
Date
17 November 2016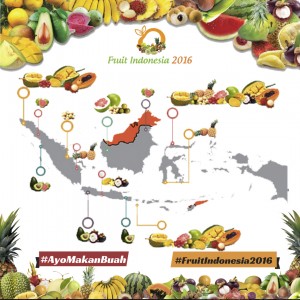 In a bid to explore the richness and promote the potentials of Indonesia's fruits to the global market as parts of Orange Revolution Movement, Ministry of Agriculture and Bogor Institute of Agriculture (IPB) in collaboration with Coordinating Ministry for the Economy hosted Fruit Indonesia 2016.
According to the press release from Public Relations and Public Information Bureau of the Ministry of Agriculture on Wednesday (16/11), Fruit Indonesia 2016 will be opened by President Joko 'Jokowi' Widodo on Thursday (17/11) morning. The event will be held on 17-20 November 2016, in Parkir Timur Senayan, Jakarta.
During the biggest Indonesia fruit festival, the Bureau added, visitors will get new experience in the sense of fruit party. "Various Indonesian typical and exotic fruits will be served for free in several booths and visitors can explore 25 to 35 Indonesian typical fruits at the festival," the press release said.
Fruits to be presented at the event are avocado, mango, pineapple, rambutan, durian, papaya, mangosteen, star fruit, banana, salak (salacca), longan, water apple, sapodilla, ambarella, passion fruit, jackfruit, lacatan banana, mandarin orange, sugar apple, guava, pomelo, watermelon, langsat, gedong mango, lime, dragon fruit, melon, pondang mango, rhinohorn banana, crystal guava, jicama, green water apple, soursop, and yellow watermelon.
In addition, visitors can also taste various Indonesian exotic fruits that are hard to find recently, among others; cottonfruit, manilkara kauki, bignay fruit, syzygium malaccense, star apple, lovi-lovi (flacourtia inermis), java plum, white mango (mangifera caesia), country gooseberry (phyllanthus acidus), gandaria (bouea macrophylla), rose apple, butter fruit, pomegranate, charentais melon, kaffir lime, passion fruit, red salak (salacca), cempedak (artocarpus integer), tamarillo, lay durian, purple passion fruit, matoa (pometia pinnata), persimmon (diospyros kaki), kepel fruit (stelechocarpus burahol), red banana, carica (mountain papaya), breadfruit, rukem (flacourtia rukam), langsat (lansium parasiticum), red mangosteen, nam nam (cynometra cauliflora), canistel (pouteria campechiana), mengkudu (morinda citrifolia), and red durian.
Aside from fruit tasting, Fruit Indonesia 2016 also provides several business chances for the visitors. A numbers of national and international programs will also be held in the festival, namely Sales Exhibition, Business Matchmaking, Export Business Coaching, various contests (Indonesia's superior fruit, fruit carving, room decoration, photography, drawing contests, and fashion show contest for elementary), as well as a carnival.
"Sales Exhibition will feature various fruit seeds, fertilizers, pesticides and hormones, fruit processed products, fruit healthcare products, Indonesia's fruit orchard tourism that covers agricultural equipment, machinery, and means, fruit outlets and financial institutions," the press release said.
Ministry of Agriculture will also display Horticulture House which introduces various fruits, vegetables, medicinal plants, and ornamental plants on three types of categories: exports commodity, import substitution commodity, and commodity to meet domestic needs.
Moreover, the Ministry will play active roles in Fruit Forum event as a series of Business Matchmaking by sharing the latest information technology in fruits cultivation, post harvest, fruit processing, as well as fruit storage and delivery.
The festival involves 19 provinces and 82 regencies/cities, and will be visited by around 15,000 domestic and foreign visitors from 9 ASEAN member countries, Asia (China, Japan, Taiwan, South Korea), the Middle East (UAE, Saudi Arabia, Qatar, Kuwait, Jordan), Australia, New Zealand, Europe, and America.
To enliven the fruit festival, 10,000 carnival participants and 500 exhibitors will also be involved.
Fruit Indonesia 2016 is the 4th festival since it was first held in 2013. The event was initially called Nusantara Fruit and Flower Festival. According to the President's directive, this year's event is focused at introducing Indonesian fruits and aims to increase the people's welfare through Indonesia's fruit development industry and make Indonesia's fruit potential commodity in domestic and international market. (Biro Humas Kementan/ES) (RAS/EP/YM/Naster)