All Road Construction Works to Stop During Lebaran Holiday
By
Office of Assistant to Deputy Cabinet Secretary for State Documents & Translation &nbsp &nbsp
Date
21 Mei 2018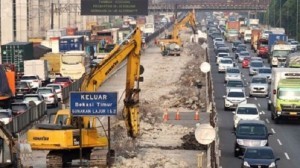 To provide convenient during mudik (an annual exodus ahead of Eid al Fitr), Ministry of Public Works and Public Housing (PUPR) has decided to stop all road construction works on H-10 until H+10 of Lebaran (Eid-al-Fitr) 2018. "It does not apply for minor potholes repairment work," Ministry PUPR's Director General of Bina Marga (road provider) Arie Setiadi Moerwanto said in a press conference on Road Infrastructure Readiness Facing Mudik Lebaran 2018 in Jakarta, on Friday (18/5). Jakarta-Cikampek Flyover Toll Road is one of the examples, Arie added.
In general, according to the Director General, the readiness of road infrastructures both toll roads and non-toll roads are better comparing to that of 2017. The percentage level of national road readiness is around 90%.
In Java Island, the Ministry has repaired and improved non-toll roads including north, middle, and south pass of Java. South Coast of Java road now state in a better condition. "We are trying hard to give a better service than previous year. We call South coast road as a scenic road. The road condition this year is better and steady," Arie Setiadi Moerwanto conveyed.
In the meantime, Preservation Director of Bina Marga Hedy Rahardian said that the Ministry encourages public to travel through South Coast of Java road especially as lebaran holiday this year is quite a long holiday.
South Coast Road reaches a length of 1,405 km along south coastlines from Banten, West Java, East Java, Special Region of Jogjakarta to East Java Province. Various coast tourism objects could be found located not far from the main road including Santolo, Pangandaran, Teluk Penyu, Parangtritis, Soge, and Telaga Warna Beach. Besides beaches, travelers would get rice field terrace and mountain view for photo spots. "This year, many accommodations could be found, as well as camping grounds and other public facilities," Hedy Rahardian concluded. (BKP Kementerian PUPR/ES) (EPI/YM/Naster)