ASEAN+3 Summit: President Jokowi Calls for Reducing Dependence on Single Currency
By
Office of Assistant to Deputy Cabinet Secretary for State Documents & Translation &nbsp &nbsp
Date
15 November 2018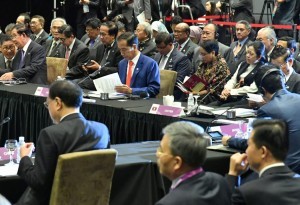 The rise of protectionist and anti-globalization sentiments due to unstable global economic conditions could damage multilateral trading system, disrupt regional and national economic growth, and cause exchange rate fluctuations. This statement was enunciated by President Joko "Jokowi" Widodo at the 21st ASEAN Plus Three (APT) Summit at the Suntec Convention Center, Singapore, Thursday (15/11). He also added that global economic situation has serious consequences for countries in the region. A large capital outflow can result in exchange rate fluctuations.
Therefore, President Jokowi reminded that the regional mechanism—the Chiang Mai Initiative Multilateralization (CMIM)—must be strengthened and ensured to run well in order to maintain economic resilience.
According to the President, there are three concrete actions that must be taken. First, the member of APT must increase their contributions to the CMIM, so that the available funds are sufficient to help members in need.
Second, the operation of the CMIM must be more feasible and responsive to help members to cope with financial crisis.
"Third, I propose that we should assign our Ministers of Finance and Governors of the Central Bank to discuss the doubling of bailout funds," President Jokowi said.
On the occasion, President Jokowi also reminded the members to begin reducing their dependence on single currency, through effective implementation of currency swap cooperation and increasing the use of local currencies in the payment of cross-country trade transactions. "The APT cooperation must be part of a global solution," the President said.
For this reason, President Jokowi said that the APT needs to collaborate deeply to create a stable, safe and prosperous East and Southeast Asia. "The APT cooperation is very important," President Jokowi concluded.
The event was attended by leaders of the ASEAN member countries, Chinese Prime Minister Li Keqiang, Japanese Prime Minister Shinzo Abe, and South Korean President Moon Jae-in.
Also accompanied the President were Coordinating Minister for Political, Legal, and Security Affairs Wiranto, Coordinating Minister for Human Development and Culture Puan Maharani, Minister of Foreign Affairs Retno Marsudi, and Minister of Trade Enggartiasto Lukita. (BPMI/EN)
Translated by: Galuh Wicaksono
Edited by: Mia Medyana