BI Encourages Public to Exchange Money at Official Cash Exchange Points
By
Office of Assistant to Deputy Cabinet Secretary for State Documents & Translation &nbsp &nbsp
Date
19 Mei 2019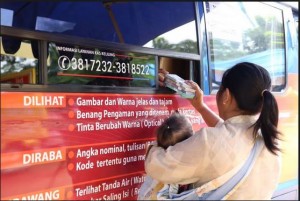 As Indonesian citizens prepare for the upcoming Eid al-Fitr, the Indonesian Central Bank (BI) suggested the people to exchange their cash at official exchange points.
"It is for their own security and convenience," Deputy Governor of Bank Indonesia (BI) Rosmaya Hadi said at the National Monument (Monas) area, Central Jakarta, Friday (17/5).
Bank Indonesia has prepared 2,900 official money exchange points across the nation, especially in the frontier, outermost, and least developed regions which often referred to as 3T (terdepan, terluar, tertinggal) regions starting 13 May to 1 June 2019.
As cited from the press release of Bank Indonesia, the money exchange transaction reached Rp28,5 billion from 9,976 customers for period of 13-15 May 2019.
The Bank Indonesia has estimated outflow as much as Rp37,8 trillion or 17,4% of total estimation (Rp217,1 trillion) during 2-16 May 2019.
Meanwhile, based on regions, the highest outflows were in Java Island with transaction reached 15 trillion in BI regional offices and Rp9.4 trillion in BI head office. In the meantime, based on the activity, the highest outflows were bank withdrawal which amounting to Rp31 trillion and Cash Deposit of Rp6.4 trillion.
Bank Indonesia has taken certain measures to ensure that the economic activities during Ramadan and Eid al-Fitr can run smoothly, safely, and comfortably with no significant disruption. (Depkom BI / ES)
Translated by: Syarifah Aisyah
Edited by: Estu Widyamurti/Mia Medyana