BMKG : Sunda Strait Sea Level Normal After Quake
By
Office of Assistant to Deputy Cabinet Secretary for State Documents & Translation &nbsp &nbsp
Date
12 Januari 2019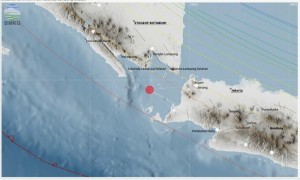 The Meteorology, Climatology, and Geophysics Agency (BMKG) confirmed the successive earthquakes recorded in the Sunda Strait on 10 and 11 January 2019 did not result in significant sea level rise and did not cause a tsunami.
However, there are potential for a tsunami recurrence in the Sunda Strait, Deputy for Geophysics of the BMKG Muhamad Sadly said.
According to him, there are at least three sources of tsunami in the Sunda Strait, namely the Gunung Anak Krakatau (GAK) Complex, Graben Zone, and Megathrust Zone.
Sadly explained that the GAK Complex consists of Gunung Anak Krakatau, Sertung Island, Rakata Island, and Panjang Island which are composed of systemically cracked rocks due to volcano-tectonic activity. The Complex is prone to collapse of rock slopes into the sea, and has the potential to re-generate tsunamis.
As for the Graben Zone, which is in the West-Southwest of the GAK Complex, is also a rock zone prone to collapse of rock slopes (landslides) and has the potential to trigger tsunami waves.
Meanwhile, the Megathrust Zone is also included as a region that has the potential to generate upward faults which triggering the tsunami.
"The BMKG continues to monitor the development of seismicity and fluctuations in sea level in the Sunda Strait," Sadly said, adding that he also urges the public to be aware of the danger zone of the shoreline (500 meters within the shoreline which has an elevation of less than 5 meters).
In the meantime, Head of the BMKG Dwikorita Karnawati said that the BMKG has carried out an installation of several monitoring devices on a number of locations in the Sunda Strait to monitor seismic activity and sea level fluctuations such as on Sibesi Island, Ujung Kulon, and Labuan. Sibesi Island is the closest island to the GAK Complex which is currently accessible for installation of equipment.
In addition, additional instruments and facilities for monitoring sea level are also carried out, for example, Tide Gauge or Water Level Sensor, Buoy, and HF Radar to detect tsunami. "The addition of this equipment is to accelerate the delivery of data from observations of seismic activity and monitored sea level fluctuations. That way, we have more time to minimize the number of victims from the earthquake and tsunami in the Sunda Strait coastal region," Dwikorita added.
The island also functioned as a natural buoy so that it can provide early reconfirmation that a tsunami wave occurs.
In order to monitor seismic activity and sea level fluctuations more optimally, Dwikorita continued, the BMKG recommended building BTS (Base Transceiver Station) specifically around the GAK complex and Ujung Kulon.
Furthermore, to anticipate the circulation of false information about the Sunda Strait condition, the BMKG urged the public to recheck the information through official channels managed by the BMKG. "Don't be provoked by hoaxes," Dwikorita concluded.
The public can check the BMKG official site (https://www.bmkg.go.id/) for news on earthquake and tsunami as well as information on weather and climate forecasts. While for the information about volcanic eruptions and landslide prone zones, the public can visit the Indonesian Magma official site (https://magma.vsi.esdm.go.id/). (Humas BMKG/EN)
Translated by: Galuh Wicaksono
Edited by: Yuyu Mulyani