BMKG Warns Against Heavy Rain on Christmas, New Year Holiday
By
Office of Assistant to Deputy Cabinet Secretary for State Documents & Translation &nbsp &nbsp
Date
24 Desember 2019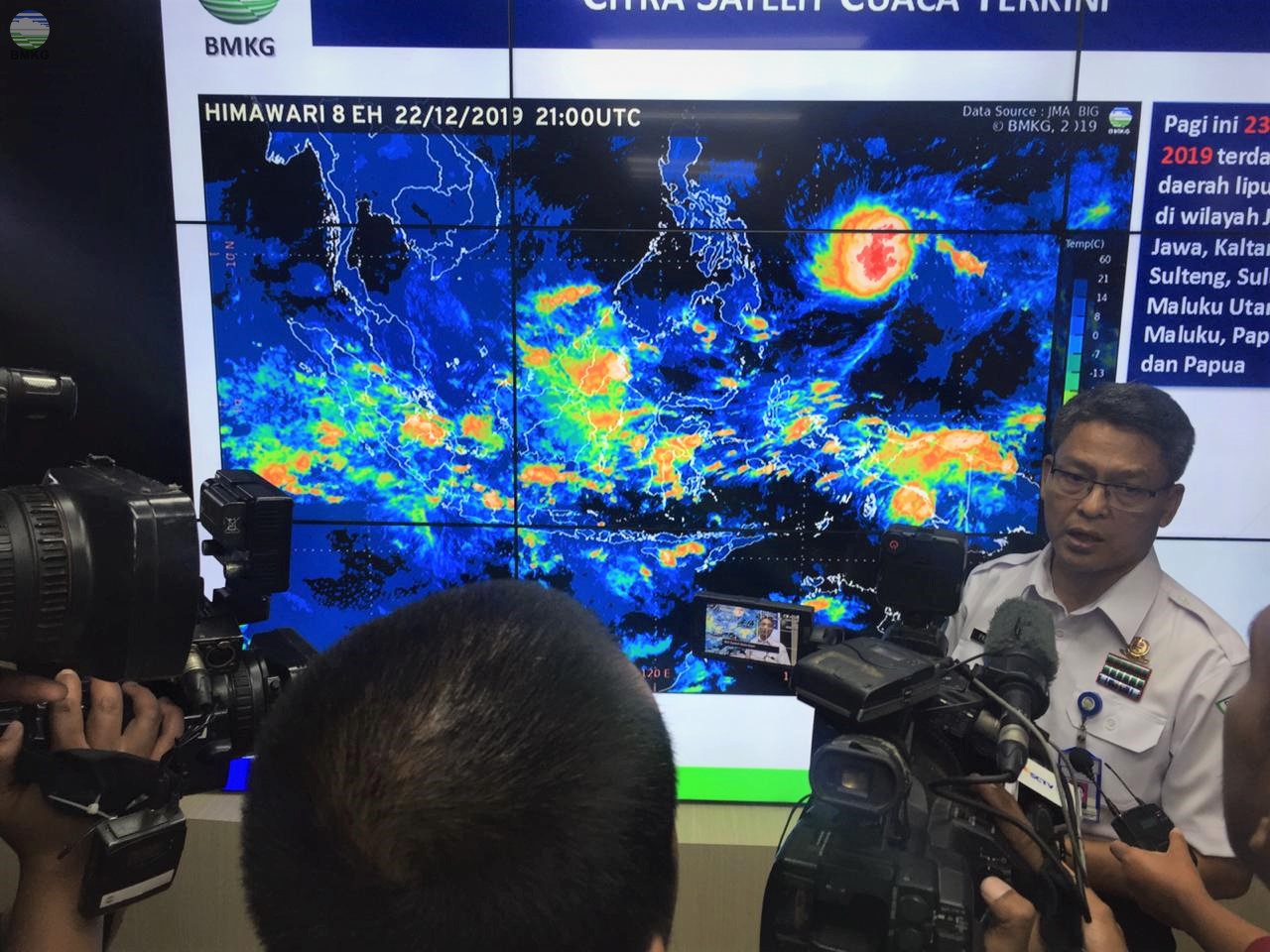 The Meteorology, Climatology, and Geophysics Agency (BMKG) urged the public to be aware of the potential for extreme weather and heavy rain during the Christmas and New Year holidays.
Head of BMKG Dwikorita Karnawati said in her press release that based on the season zone until the second of tenth day of December 2019, 74 percent of the country had entered the rainy season.
"Aceh, North Sumatra, West Sumatra, Riau, Jambi, Bengkulu, South Sumatra, Bangka Belitung Island, West Java, Central Java, East Java, North Kalimantan, East Kalimantan, Central Kalimantan, South Kalimantan, West Sulawesi, Central Sulawesi, Maluku, West Papua, and Papua will experience rain from noon until afternoon," Dwikorita said on Monday (23/12).
She also urged the people who reside and work near the coast as well as tourists to be aware of the potential for high waves up to four meters in several Indonesian waters.
Areas with high potential of waves of 1.25 – 2.5 meters on 23 – 28 December 2019, Dwikorita continued, are northern waters of Sabang, Aceh to Mentawai Islands western waters, Enggano to Bengkulu waters, western waters of Lampung, southern Sunda Strait, Java to Sumba Island waters, Indian Ocean south of Java to West Nusa Tenggara, southern waters of Bali Strait-Lombok Strait- Alas Strait, southern Sawu Sea, Sawu Island to Rotte Island southern waters, west Indian Ocean of Sumatra, northern of Natuna Sea, Anambas Islands to Natuna Islands waters, Bintan to Lingga eastern waters, Sulawesi Sea, Sangihe Islands to Talaud waters, Maluku Sea, northern waters of Halmahera Island, Halmahera Sea, northern waters of West Papua to Papua.
"As for 27 and 28 December 2019, there will be an increase in sea waves as high as 2.5 to 4 meters in the Central Java to Sumbawa southern waters, the Indian Ocean south of Central Java to Sumba and the northern of Natuna Sea," she added.
According to Dwikorita, during the period of Christmas and New Year Command Post, the BMKG also played an active role in the National Command Post at the Ministry of Transportation, state-owned seaport operator PT. ASDP Merak Port, 34 Provincial technical management unit (UPTs), and joint-command post at 13 Ports and 96 Airports.
Furthermore, Dwikorita urged the public to remain vigilant of potential hydro-meteorological disasters that could occur such as fallen tree/billboards caused by rain with strong winds and rising waves. She also warned the people to refrain from taking shelter under a tree and doing traditional fishing during a thunderstorm.
For those who want to get the latest information from the BMKG, the Agency opens a 24-hour weather information service through call center 021-6546315/18; http://bmkg.go.id; follow @infobmkg on Twitter; or directly contacts the nearest BMKG office. (EN/Humas BMKG/ES)
Translated by: Galuh Wicaksono
Reviewed by: Yuyu Mulyani