BMKG Warns Against Hydro Meteorological Disasters
By
Office of Assistant to Deputy Cabinet Secretary for State Documents & Translation &nbsp &nbsp
Date
17 Januari 2019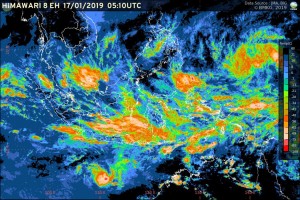 The Meteorology, Climatology and Geophysics Agency (BMKG) stated that cold air masses from Asia are entering Karimata Strait, West Kalimantan, Central Kalimantan and South Kalimantan while wet air masses from Indian Ocean are entering western waters of Bengkulu, Sunda Strait, Lampung, Java, Bali, West Nusa Tenggara and East Nusa Tenggara.
In addition, there is low pressure center in South Indian Ocean of Java and several wind circulation that can form a convergence pattern/convergence zone that extends from western waters of Sumatra, Java to Banda Sea.

"The convergence zone will significantly lead the growth of rain clouds," Deputy Head of the BMKG for Meteorology Mulyono R. Prabowo said during a press release on Wednesday (17/1).
Mulyono added that strong Westerlies pattern indicates that Indonesia's territory is entering the peak of rainy season.
"This condition can lead to heavy rain which can be accompanied by lightning and strong wind in the next few days in some regions of Indonesia," Mulyono explained.
Mulyono went on to say that some regions that are prone to heavy rains with lightning and strong wind are: 1. Riau; 2. Riau Islands; 3. West Sumatra; 4. Bengkulu; 5. Jambi; 6. South Sumatra; 7. Bangka Belitung; 8. Lampung; 9. Banten; 10. Special Capital Region of Jakarta (DKI Jakarta); 11. West Java; 12. Central Java; 13. Special Region of Yogyakarta; 14. East Java; 15. Bali; 16. West Nusa Tenggara; 17. East Nusa Tenggara; 18. Central Kalimantan; 19. South Kalimantan; 20. East Kalimantan; 21. South Sulawesi; 22. Southeast Sulawesi; 23. Maluku; 24 West Papua; and 25. Papua.
Mulyono further said that 2.5 to 4.0 meter high ocean waves are likely to occur in western waters of Mentawai, Bengkulu waters until Enggano island, western waters of Lampung, West Indian Ocean from Mentawai islands to Lampung, southern part of Sunda Strait, southern water of  Java to Sumbawa island, Bali Strait – Lombok – southern part of Alas, South Indian Ocean from Java to West Nusa Tenggara, North Natuna Sea, waters of Anambas islands-Natuna, central to eastern part of Java Sea, southern part of Makassar Strait, Sabalana islands to Selayar islands, Flores Sea, Banda Sea, waters of Sangihe-Talaud islands, North Maluku Sea, waters of North Halmahera, Halmahera Sea, northern waters of Biak, and Pacific Ocean from North Halmahera to Biak.
"We urge the public to remain vigilant and be careful of the impacts of hydro meteorological disasters including floods, landslides, flash floods, inundations, strong wind, fallen trees, and slippery roads," Mulyono concluded. (EN/Humas BMKG/ES)
Translated by: Ridwan Ibadurrohman
Edited by: Mia Medyana