BMKG Warns of High Waves Across Indonesia
By
Office of Assistant to Deputy Cabinet Secretary for State Documents & Translation &nbsp &nbsp
Date
11 Februari 2019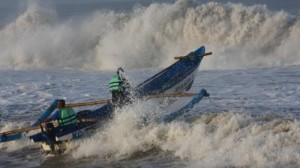 The Meteorology, Climatology, and Geophysics Agency (BMKG) called on the public to be aware of high ocean waves that are likely to occur in the next three days, from Monday (11/2) to Thursday (14/2).
The BMKG has detected air masses circulation in Indian Ocean, eastern part of Bengkulu. Wind speed in northern part of Indonesia, flowing from North to Northeast are generally in the range of 4 to 25 knots. In the meantime, wind speed in southern part of Indonesia, flowing from Southwest to Northwest are in the range of 4 to 20 knots.
"The highest wind speed is recorded in South China Sea, waters of Sangihe Island – Talaud, and northern part of Maluku Sea. This condition will increase ocean waves height in that aformentioned areas," BMKG Public Relation Division's press release on Monday (11/2) reads.
Potential areas of moderate wave height ranging from 1.25 to 2.5 meters are among others; northern part of Malaka Strait, Lhokseumawe waters, nothern waters of Sabang, waters of Sabang to Banda Aceh, western waters of Aceh to Mentawai Islands, waters of Bengkulu to West Lampung, Indian Ocean in western part of Sumatra, southern part of Sunda Strait, southern waters of Java to Sumbawa, Bali Strait – Lombok Strait – southern part of Alat Strait, southern waters of Sumba Island, southern Indian Ocean from Java Island to East Nusa Tenggara, northern waters of Anambas Islands, Natuna Island, central and northern part of Makassar Strait, waters of East and North Kalimantan, waters of East Bitung, southern part of Maluku Sea, northern waters of Banggai Islands – Sula Islands, eastern waters of Southeast Sulawesi, Banda Sea, northen waters of West Papua to Papua, Pacific Ocean in northen part of Papua, Timor Sea in southern part of East Nusa Tenggara, waters from Babar Islands to Tanimbar Islands, southern waters of Aru Island, Arafuru Sea, and western waters of Yos Sudarso.
In addition, potential areas of wave ranging from 2.5 to 4.0 meters in height are among others; North Natuna Sea, northern waters of Natuna Islands, northern waters of Sulawesi, Sulawesi Sea, waters from Sangihe Islands to Talaud Islands, northern part of Maluku Sea, northern waters of Halmahera, Halmahera Sea, and Pacific Ocean stretching from Northen Halmahera to West Papua.
The Agency also called on people to note the high risk of sailing. Every maritime transport has their maximum safe wave height and wind speed that must be taken into account before going sailing. "BMKG urges the people living at coastal areas and densely populated fishing area to remain vigilant," the press release reads. (EN/BMKG PR Division/ES)
Translated by : Rany Anjany Subachrum
Edited by : Mia Medyana