BNPB Head: All Parties Must Provide Support to Combat Forest Fires
By
Office of Assistant to Deputy Cabinet Secretary for State Documents & Translation &nbsp &nbsp
Date
18 September 2019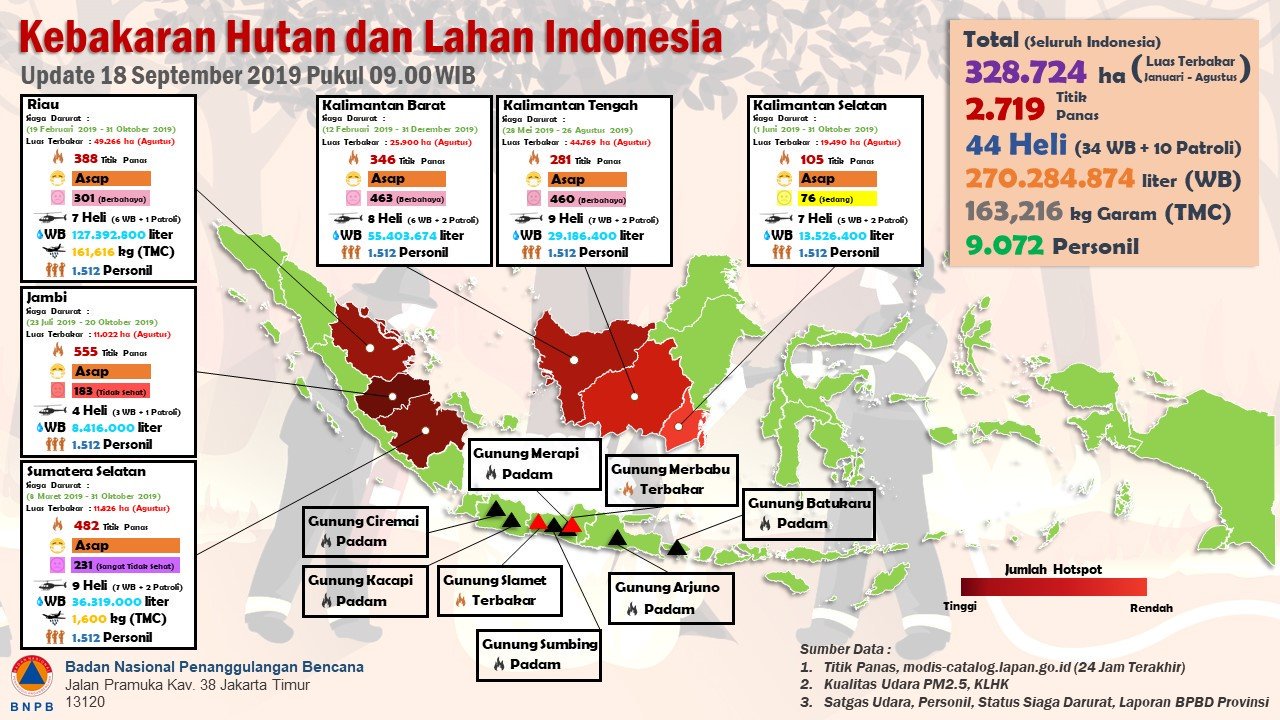 The Central Government needs support from regional governments to combat forest fires, Head of the National Disaster Mitigation Agency (BNPB) Doni Monardo asserted.
"Forest fire is a permanent threat, thus the solution must also be permanent," stated Doni in a press release on Tuesday (18/9).
He mentioned as well the importance of synergy between the Government, the community, the business sector, the media and the academics to combat and prevent fires.
Furthermore, Doni continued, another fire-prevention way is to tighten the release of environmental permits by regents or regional heads. Regional heads are also required to exercise their supervisory function and give sanctions or take administrative actions for those who violate the rule.
He once again emphasized the need for support from regional heads to help the Central Government extinguish the fires.
Doni went on to say that 99% forest fires are caused by human for land clearing purpose, while the El Nino phenomenon and severe drought are also worsening the case.
"Based on data, forest and land fires are caused by human, shown by 80% of land turned into plantation land," he said.
He added that forest burning is an extraordinary crime. Thus, the people's behavior needs to be changed so that they no longer burn forest for land clearing. In addition, law enforcement for the perpetrators is also needed.
Doni further said that the Government and the House of Representatives must collaborate to take actions against the mafia who plant illegal palm trees.
For the record, the Police has recorded 196 cases with 218 individual suspects and 5 corporate suspects of forest burning in 2019. (Information Center of the BNPB/ES)
Translated by: Estu Widyamurti
Edited by: Mia Medyana