Indonesia's Economic Growth Showing Positive Trend: Chief Economic Minister
By
Office of Assistant to Deputy Cabinet Secretary for State Documents & Translation &nbsp &nbsp
Date
5 November 2020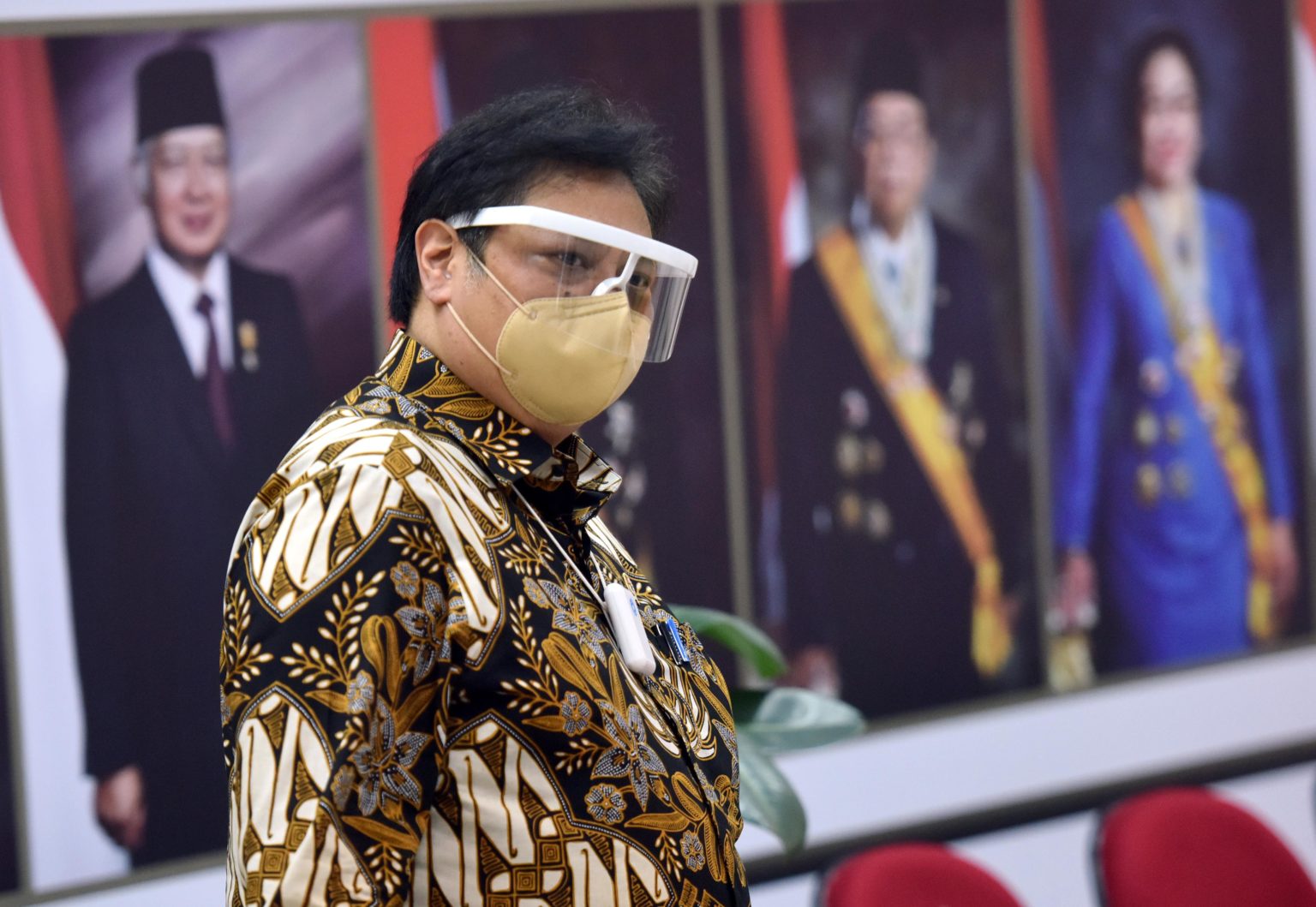 The Central Statistics Agency (BPS) has issued a release on Indonesia's economic growth in Q3 of 2020 on Thursday (5/10).
The Indonesian Economy in Q3 of 2020 contracted by 3.49 percent (yoy). However, compared to Q2 of 2020, the economy rebounded by 5.05 percent.
Responding to the release, Coordinating Minister for Economic Affairs Airlangga Hartarto stated that Indonesia's economic growth has shown a positive trend. This positive trend indicates that the economy has begun to recover from COVID-19 pressure.
"We have passed the rock bottom of minus 5.32 (percent) in the Q2 and in the Q3, we have reached a positive trend of minus 3.49 (percent). We hope that in the fourth quarter the trend will be positive, minus 1.6 (percent) or 0.6 (percent)," Airlangga said in a press statement at the Presidential Office, Jakarta, Thursday (5/11).
Indonesia's Gross Domestic Product (GDP) in the Q3 also increased, reaching Rp3,895 trillion. Based on BPS data, the economic improvement was driven by improvements that occurred on the demand side, in which household consumption as the main contributor experienced improvement with a growth of 4.70 percent (qtq) or minus 4.04 percent (yoy).
Quarterly, Airlangga added, other indicators that also grew positively were LNPRT (Non-Profit Institutions Serving Households) consumption of 0.56 percent, government consumption of 16.93 percent, PMTB (Gross Fixed Capital Formation) of 8.45 percent, and exports of 12.14 percent. "Imports are still slightly negative, minus 0.08 percent," he said.
The improvement also occurred on the supply side, in which the manufacturing industry and the agricultural sector experienced improvements with quarterly growth of 5.25 percent and 1.01 percent, respectively. Water supply, waste management, waste, and recycling also grew by 8.30 percent.
"In the warehousing sector, the jump is high, it shows that consumption has started to improve, namely 24.28 (percent). Likewise, the sector that was heavily affected, which was negative in the Q2, namely (provision of) accommodation and food and beverage which was previously minus 22 (percent), it jumped to 14.79 (percent)," Airlangga said.
Although public production and purchasing power have not returned to pre-pandemic levels, a number of economic indicators have shown gradual improvement as economic activity begins. "Our PMI (Prompt Manufacturing Index-BI) has increased, motor vehicle sales and retail sales also improved, so has the Consumer Confidence Index (IKK) and raw and auxiliary materials, indicating that industrial activity has started," he said.
Tourism sector as the most affected sector by the pandemic, he added, has also begun to show improvement compared to the previous quarter.
Formal and informal employment also experienced major pressure as the unemployment rate is still around 5 percent. The number of new workforce in 2020, he said, is around 3 million. "There are 1.7 (million) college graduates and about 1.3 (million) Vocational High School graduates who are in need of job creation. This is one of the things that is encouraged in the Job Creation Law so that it is easier for them to find work, there is also a simplified way for them to enter the business sector," he said.
Airlangga said that a positive trend of economic growth was achieved with a government intervention policy in the form of COVID-19 handling and National Economic Recovery. "The Government carried out various activities including encouraging (the disbursement of) stimulants of economic programs, if we look at it from July to November, from the total budget of Rp695 trillion per November year to date (ytd), Rp366.86 (trillion) has been disbursed or utilized," he explained.
The prices of Indonesia's main export commodities (palm oil and coal) have also increased. This is also supported by the improvement in global manufacturing activity. "As one of the mainstays of exports, coal has encouraged the agricultural sector to always grow positively in the time of COVID-19 pandemic," he said.
Capital inflow has begun to increase after a significant decline in early 2020. "Capital inflow has increased, our bond yield level has also decreased, and demand for our bonds is quite good so that we can encourage the improvement of capital inflow to increase investment, be it in the form of indirect investment, portfolio, or later through direct investment," he concluded. (FID/DND/UN)
Translated by: Fairuzzamani Inayatillah
Reviewed by: Mia M. Bonaedy