BPS: Working Population Rises by 2.29 Million
By
Office of Assistant to Deputy Cabinet Secretary for State Documents & Translation &nbsp &nbsp
Date
7 Mei 2019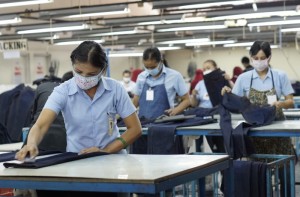 The Central Statistics Agency (BPS) has reported that of Indonesia's total labor force reaching 136.18 million people in February 2019, 129.36 million people are employed and 6.82 million people are still unemployed.
"Compared to the figure a year ago, the working population has increased by 2.29 million people, while unemployment rate has declined by 50 thousand people," Head of the BPS Suhariyanto stated at a press conference at Jakarta, Monday (6/5).
In line with the increasing workforce, according to Suhariyanto, the Labor Force Participation Rate (TPAK) also increased.  The February 2019 TPAK was at 69.32%, increasing by 0.12% compared to the same period last year.
"The increase in TPAK indicates an economic potential from the labor supply which also increased," he explained.
Based on gender, there were differences in TPAK between men and women. In February 2019, male TPAK was at 83.18%, while female TPAK was at 55.50%.
"Compared to last year conditions, male and female TPAK increased respectively by 0.17% and 0.06%," Suhariyanto said.
He further stated that the Open Unemployment Rate (TPT) is an indicator that can be used to measure the level of supply of labor that is not absorbed by the labor market, adding that the TPT in February 2019 (5.01%) is lower than that of February 2018 (5.13%). Based on the living area, the urban areas TPT was recorded higher than in rural areas.
"In February 2019, the urban areas TPT amounted to 6.30%, while the rural areas TPT was at 3.45%," Suhariyanto said, adding that compared to a year ago, both urban and rural areas experienced a decline in TPT. The respective percentages were 0.04% and 0.27%.
Based on education level of February 2018, the vocational high school TPT (8.63%) was the highest among other education levels, followed by diploma degrees TPT (6.89%).
In other words, there were unabsorbed labor offers, especially at the vocational and diploma levels. "Those with low education tend to accept any job. It can be seen from the elementary school TPT which is the smallest among all education levels at 2.65%," Suhariyanto further explained.
The number of people working in each category of employment shows the ability to absorb labor. He said that based on employment, the structure of the working population in February 2019 was still dominated by three main employment sectors, namely: agriculture, forestry, and fisheries (29.46%); trading (18.92%); and processing industry (14.09%).
Based on the trend of employment during February 2018-February 2019, business sectors experienced an increase in the percentage of the working population mainly on accommodation provider and food and beverage (0.43%), trade (0.39%), and construction (0.34%).
Meanwhile, employment experienced a major decline in agriculture (1.00%); government administration (0.23%); and information and communication (0.06%). (BPS PR/ES)
Translated by : Fairuzzamani Inayatillah
Edited by : Ridwan Ibadurrohman, Mia M. Bonaedy