Cabinet Secretariat Holds FGD on Structural Reforms
By
Office of Assistant to Deputy Cabinet Secretary for State Documents & Translation &nbsp &nbsp
Date
13 April 2021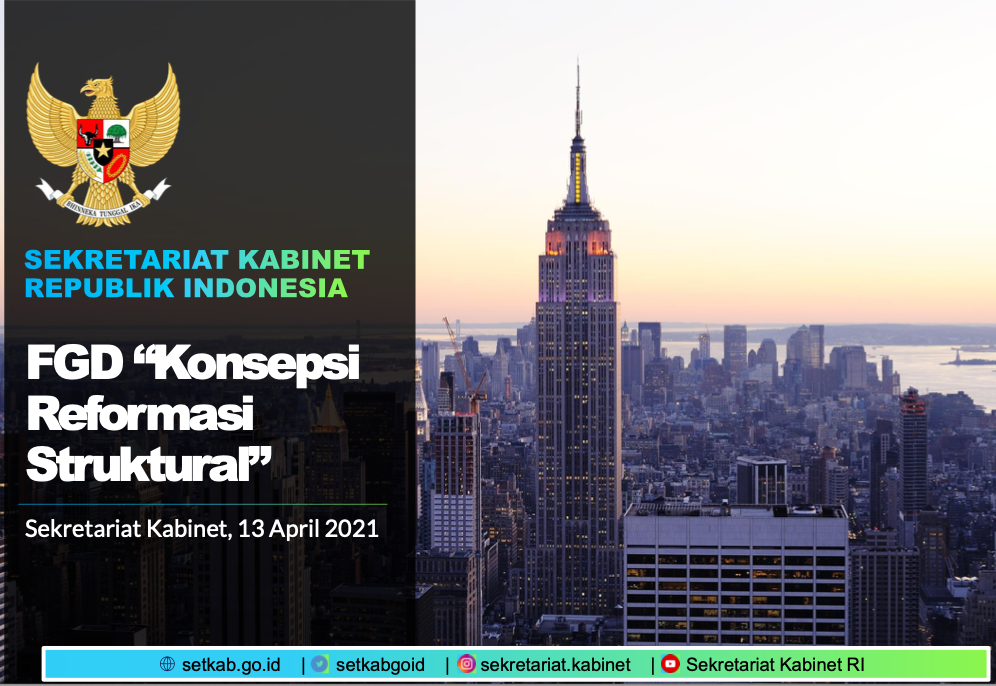 Cabinet Secretariat on Tuesday (13/4) held a virtual Focus Group Discussion (FGD) under the theme 'Conception of Structural Reforms'.
According to Assistant to Deputy Cabinet Secretary for Macroeconomics, Development Planning, and Business Climate Development Roby Arya Brata, the FGD was conducted based on four issues. They are as follows:
First, structural reforms are pivotal in response to the COVID-19 pandemic.
"Regarding the impact of the pandemic, it is necessary for us (Indonesia) and at a global level to carry out structural reforms. All of us, including other countries must also implement structural reforms," Roby said.
Second, the structural reforms discussed in the FGD are also relevant to the Government Work Plan (RKP), in terms of acceleration of economic recovery and social reforms.
Third, there are structural obstacles, such as low economic competitiveness, quality of human resources, financial inclusion, quality of institutions, and tax revenues.
Fourth, the risk of falling into middle-income trap; it is likely that the country cannot maintain its achievements due to the COVID-19 pandemic.
Roby further said that Indonesia already has a foothold to implement structural reforms with the passing of the Job Creation Law.
He also expressed hope to get recommendations regarding structural reforms through this event that will be offered to President Joko "Jokowi" Widodo.
"I always hope that each FGD can produce great recommendations, breakthroughs, and innovations that can provide suggestions or solutions to the President, the Government, in this case making breakthroughs amid procedural obstacles and difficulties," he said.
Furthermore, this FGD was held to identify three things, that is the basic concepts of structural reforms; the benefits of structural reforms, particularly to improving the performance of the national economy and the costs to be borne in the short term; as well as the urgency of post-pandemic structural reforms in strengthening national economic resilience.
The discussion featured several speakers, namely the Economist of CORE Indonesia Hendri Saparini, Public Finance Law Expert at the Faculty of Law of the University of Indonesia Dian Puji N. Simatupang, and Professor of the Faculty of Economics and Business at Padjajaran University Arief Anshory Yusuf. (RIF/MMB)