Cabinet Secretary Congratulates Badminton Doubles Liliyana/Tontowi and Sanjaya/Gideon
By
Office of Assistant to Deputy Cabinet Secretary for State Documents & Translation &nbsp &nbsp
Date
21 November 2016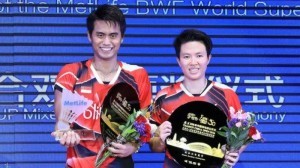 Cabinet Secretary Pramono Anung tweeted his congratulation for the success of Indonesian men's and mixed doubles Kevin Sanjaya Sukamuljo/Marcus Fernaldi Gideon and Liliyana Natsir/Tontowi Ahmad in winning the gold medals at China Open Super Series Premier badminton tournament, in Haixia Olympic Sports Center, Fuzhuo, on Sunday (20/11) afternoon.
"Congratulation for the winner of men's doubles Sanjaya and Gideon in Thaihot, China Open #Proud," Pramono Anung tweeted in his twitter account @pramonoanung, that was uploaded after Sanjaya/Gideon defeated the men's doubles from Denmark Mathias Boe/Carsten Mogensen, with a straight set 21-18, 22-20.
In the evening, Liliyana Natsir/Tontowi Ahmad got the second medal in that tournament  after overcoming fierce resistance from Chinese doubles Zhang Nan/Li Yinhui with rubber set 21-13, 22-24, 21-16. After the game, Cabinet Secretary Pramono Anung once more tweeted his congratulation.
"Congratulation for the winner of mixed doubles Liliyana and Tontowi in Thaihot, China Open #Proud#2GoldMedals," Pramono tweeted, on Sunday (20/11) evening, and he also put three thumbs up emoticons.
For the record, in that tournament, Indonesia sent two representatives on final, that is on men's and mixed doubles. On men's doubles, Indonesia was represented by Kevin Sanjaya Sukamuljo/Marcus Fernaldi Gideon after defeating Chai Biao/Hong Wei 6-21, 26-24, and 21-19. Meanwhile, mixed doubles Liliyana Natsir/Tontowi Ahmad outwitted the South Korean pairs Solgyu Choi/Chae Yoo Jung 21-17, 25-23.
Proud and Touched
Same with the Cabinet Secretary, Minister of Youth and Sports Affairs Imam Nahrawi, who watched the live final of China Open on television, on Sunday (20/11) was nervous watching the fierce resistance of Sanjaya/Gideon and Liliyana/Tontowi.
However, the Minister was grateful because both pairs were able to defeat their rivals: Mathias Boe/Carsten Mogensen from Denmark and Zhang Nan/Li Yinhui from China.
"Owi/Butet WIN! Alhamdullilah, @TontowiAhmad/@LN_909 also win. Indonesia gets two titles from #ChinaOpen. I am proud and touched," the Minister tweeted in his account @imam_nahrawi, on Sunday (20/11) evening. (ES) (MMB/LW/Naster)