Carbon Tax Reflects Indonesia's Commitment to Tackling Climate Change: Minister
By
Office of Assistant to Deputy Cabinet Secretary for State Documents & Translation &nbsp &nbsp
Date
22 November 2021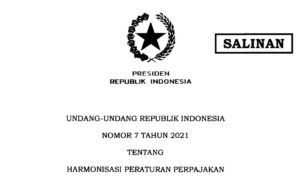 Carbon tax provision in Law on Harmonized Taxation (UU HPP) reflects the Government's commitment to addressing impact of climate change, Minister of Finance Sri Mulyani Indrawati has stated.
"President Joko "Jokowi" Widodo at the COP26 Meeting in Glasgow has reaffirmed Indonesia's commitment to the global fight against climate change," the Minister said during Kick Off Dissemination of UU HPP on Friday (19/11).
The carbon tax, she added, will be imposed in stages in accordance with the roadmap, by taking into account the development of carbon market, the achievement of the Nationally Determined Contribution (NDC) target, as well as sector readiness and economic situation.
According to the Minister, the implementation of the policy is supported by Presidential Regulation Number 98 of 2021 on Implementation of Carbon Economic Values ​​to Achieve Nationally Determined Contribution Target and Control of Greenhouse Gas Emission in National Development.
The Regulation stipulates the implementation of carbon trading, levies on carbon emission, and performance-based payment for reducing carbon emission.
"We will introduce cap and trade scheme in several sectors," Sri said, adding that under the cap and trade scheme, entities that produce emission higher than the limit must purchase an Emission Clearance Certificate (SIE) from the entity that produces emission below the limit, or purchase an Emission Reduction Certificate (SPE or carbon offset).
Sri went on to say that the carbon tax rate is set to be higher than, or at the same rate as, the carbon price in the carbon market with a minimum rate of Rp 30.00 per kilogram of carbon dioxide equivalent (CO2e).
The Minister further said that the Government will also take into account global carbon price disparity.
"Indonesia has to meet its carbon reduction quota before it sells its carbon credit. If our carbon price is low, countries with high carbon prices will buy the carbon from Indonesia," the Minister remarked. (PR of Ministry of Finance/UN) (RI/MUR)