Condemned Terror Attack in Nice, President Jokowi: Indonesia is United in Solidarity
By
Office of Assistant to Deputy Cabinet Secretary for State Documents & Translation &nbsp &nbsp
Date
15 Juli 2016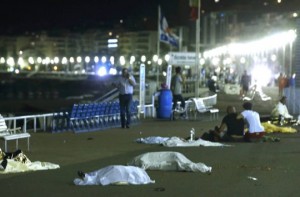 President Joko 'Jokowi' Widodo considered terror attack in Nice, France, on Friday (15/7) as a cruel act. Dozen of people died when a large truck plowed into a crowd during Bastille Day celebrations.
"The attack in France was very cruel. Indonesia is united in solidarity. Condolences to the victims and the people of France," President Jokowi said on his twitter account @jokowi, on Friday (15/7).
Previously, Cabinet Secretary Pramono Anung in a press statement said that the Government of Indonesia condemned the cruel terror attack which targeted innocent people .
"We believe the world will unite and fight against the acts of terror," Pramono told the reporters on Friday (15/7), in his office, at the Ministry of State Secretariat Complex, Jakarta.
Soon after receiving information on the attack, Minister of Foreign Affairs Retno Marsudi asked the Indonesian Consulate in Marseille, which in charge of the area in southern France, to see about possible Indonesians among the victims.
"Based on the search conducted by the Consulate General in Marseille, so far, no Indonesians had become victims of the terror attack. However, the Consulate General continues to coordinate with local authorities, checks the medical treatment facilities where all victims were taken shortly after the incident, and contacts Indonesian citizens who live in Nice and its surrounding areas," a press release of the Ministry of Foreign Affairs says.
Based on data from the Ministry of Foreign Affairs, as many as 725 Indonesians live in southern France, while 10 families live in Nice and its surrounding areas.
For the record, Nice is one of the main tourist destinations during the summer.
Indonesian citizens living around Nice and their families in Indonesia seeking information can call the hotline number of the Consulate General in Marseille at +33618221283 24 hours/day and also hotline number of the Indonesian Citizen Protection Directorate at the Ministry of Foreign Affairs at 081290070027.
(Dit Infomed Kemlu/ES) (RAS/MMB/YM/Naster)