Construction Sector Expected to Provide Leverage for National Economy: President Jokowi
By
Office of Assistant to Deputy Cabinet Secretary for State Documents & Translation &nbsp &nbsp
Date
15 Januari 2021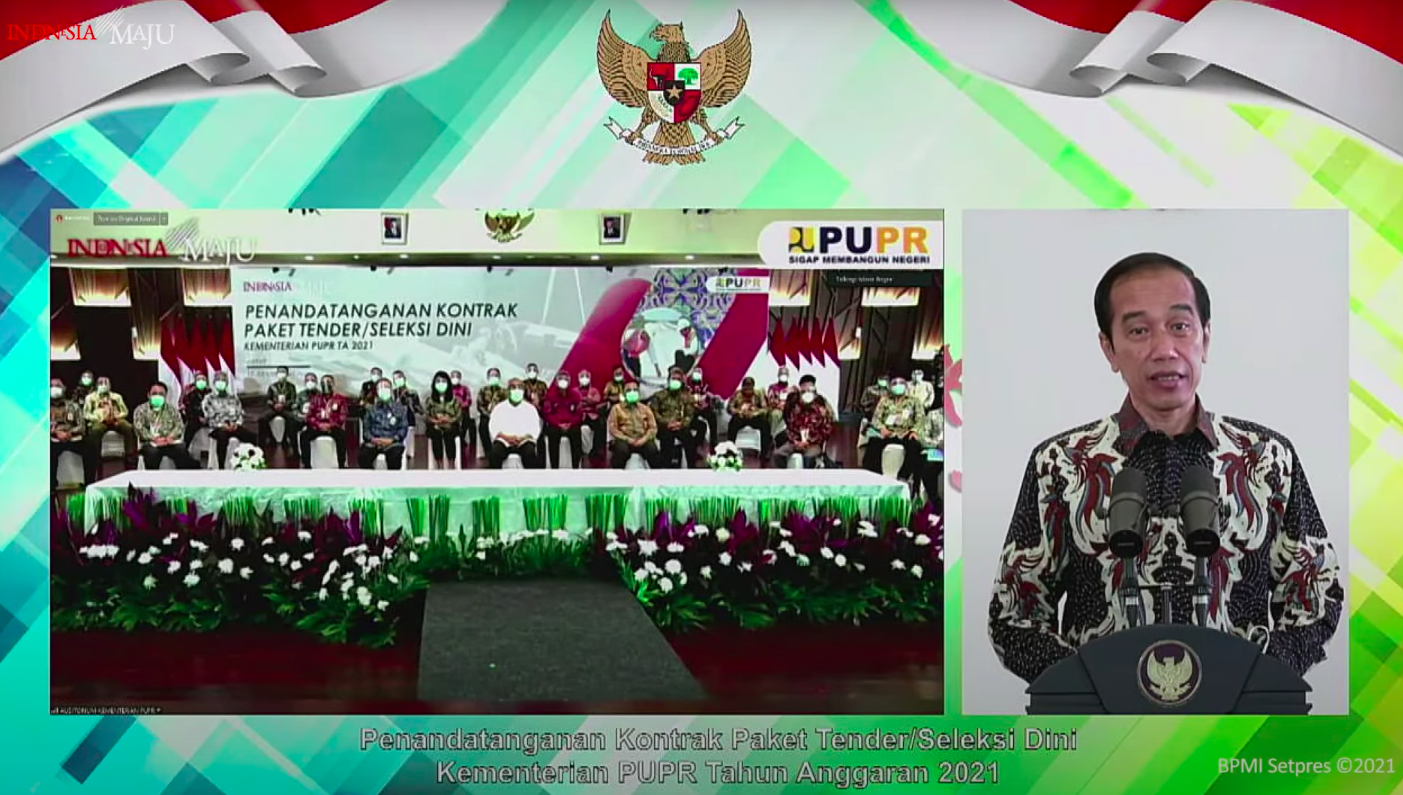 President Joko "Jokowi" Widodo on Friday (15/01) virtually attended the Signing of Contracts of 982 Tender/Early Selection Packages of Ministry of Public Works and Public Housing (PUPR) worth IDR 12.5 trillion.
In the 2021 State Budget, PUPR Ministry received the biggest chunk of the budget, reaching Rp149.81 trillion. Therefore in his remarks, President Jokowi reminded that the use of the budget must make significant impacts on national economic growth.
"I want to remind all ranks of PUPR Ministry that this big budget must make significant impacts, must provide leverage for our economy, in order to revive the national construction sector," the President said.
The revival of construction sector does not only provide job opportunities for workers in this sector but also moves the supply chain in the construction and contracting sectors. In addition, it also gives a broad multiplier effect to construction-related industries as well as informal sectors.
On this occasion, the Head of State also expressed his appreciation for the Ministry's efforts to accelerate the process of tender or early selection since October 2020. As of 15 January 2021, a total of 209 construction procurement packages worth Rp2.1 trillion have completed the tender process and the contracts have been signed. In the meantime, 982 packages worth Rp12.5 trillion have completed the tender process and the contracts are ready to be signed.
"I noted that there are still a lot of packages that have not been started the tender process. Thus, I urge Minister of PUPR to accelerate this so that in the first quarter all packages have started the tender process and the contracts are ready to be signed," the President said. (DND/UN) (GWH/MMB)