Coordination Among Gov't Institutions to Ease CPNS Recruitment Process
By
Office of Assistant to Deputy Cabinet Secretary for State Documents & Translation &nbsp &nbsp
Date
30 Agustus 2018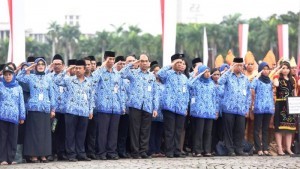 Minister of State Apparatus Empowerment and Bureaucratic Reform Syafruddin in a meeting held on Thursday (30/8), on Civil Servant Candidates (CPNS) recruitment for the 2018 fiscal year instructed all  central and regional governmental institutions to manage the implementation of the selection process properly.
Syafruddin added that it must be convenient for the public, one of which by making the testing centers easy to reach. In addition to that, the Minister also asked to well manage and organize the stages of the selection process, starting from recruiting announcement to the final results.
In the meantime, Head of the National Civil Service Agency (BKN) Bima Haria Wibisana asserted that the BKN will finalize coordination with relevant institutions to make registration of CPNS recruitment easier for the public.
One of the measures taken by the BKN, Bima added, is to establish coordination with the Directorate General of Population and Civil Registration to lessen participants' problems in inputting the Resident Registration Number.
Moreover, Bima described several scenarios and implications from civil servant recruitment planned schedule. Also on that ocassion, State Apparatus Empowerment and Bureaucratic Reform Deputy Minister Setiawan Wangsaatmadja gave an explanation about Policy of the Recruitment of 2018 Civil Servant Candidates, while Deputy for Supervision of Government Agencies for Politics, Law, Security, Human Development and Culture of the Indonesia's National Government Internal Auditor (BPKP), Ernadhi Sudarmanto, explained Risk Mitigation of the Recruitment of 2018 Civil Servant Candidates.
After the meeting, the Head of Public Relations Division of the BKN Mohammad Ridwan said that based on  Government Regulation Number 11 of 2017 on Civil Servant Management, the process of CPNS recruitment must consist of : (1) planning, (2) announcement of unoccupied positions that  must be posted for at least 15 calendar days, (3) application (via sscn.bkm.go.id), (4) selection (administrative, basic competencies, competencies based on respective fields), and (5) announcement of the final results.
Also attending the meeting were First Class Senior Officials of the National Civil Service Agency (BKN) and representatives of several ministries and institutions. (Humas BKN/EN) (RAS/MMB/Naster)