COVID-19 Handling Task Force Issues Circular on Restrictions of Community Activities During Eid al-Adha
By
Office of Assistant to Deputy Cabinet Secretary for State Documents & Translation &nbsp &nbsp
Date
17 Juli 2021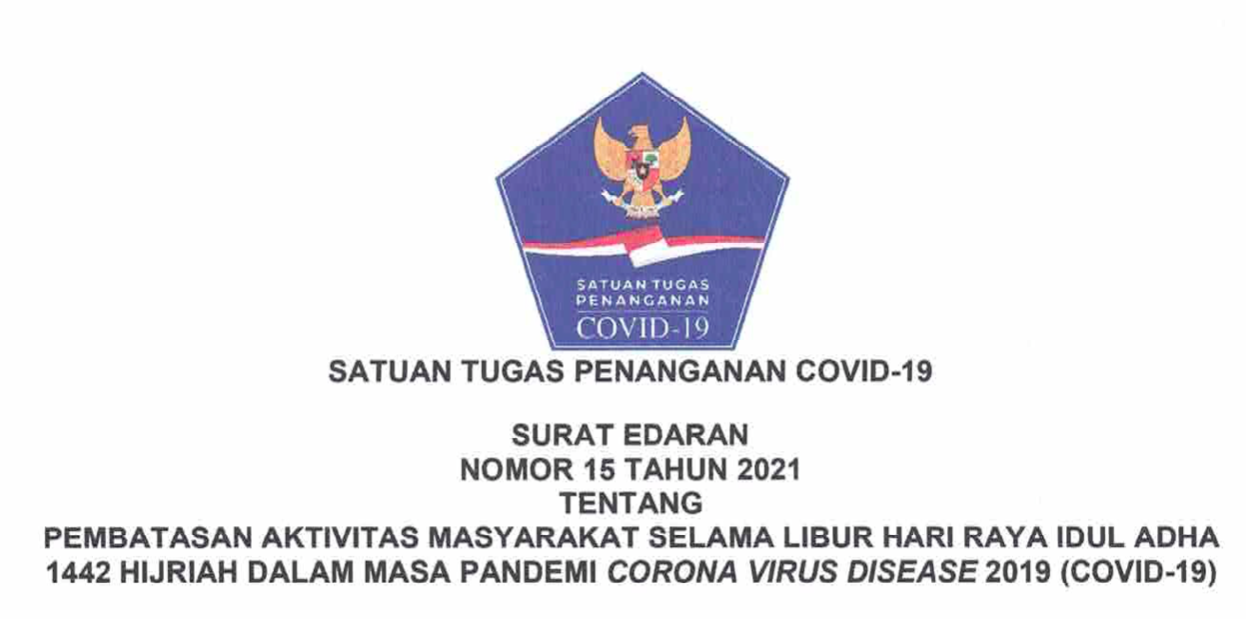 COVID-19 Handling Task Force has issued Circular Number 15 of 2021 on restrictions of community activities during the Eid al-Adha 1442 Hijri/2021 holiday.
This newly issued circular is valid from 18-25 July 2021.
Spokesperson for the COVID-19 Handling Task Force Wiku Adisasmito said that with the issuance of this circular, Circular of COVID-19 Handling Task Force Number 14 of 2021 on Provisions for  People's DomesticTravel During the COVID-19 Pandemic, all instructions from Minister of Home Affairs, as well as circulars of ministries, institutions, and local governments, as well as other legal instruments remain in effect as long as they do not conflict with this circular.
"In principle, this change in national policy is not aimed at confusing the public, but simply trying to stay adaptive to current conditions in hope that the COVID-19 can be controlled properly," he virtually said in his press statement, Saturday (17/17).
The issuance of this Circular aims at preventing an increase in the transmission rate, due to the long holiday as well as to contain the household cluster transmission. In addition, this also aims to optimize the function of the regional task force/regional governments in controlling the transmission rate in all regions according to the level criteria.
This policy was also taken based on the results of the Limited Coordination Meeting at the Ministerial, Regional Government, and the Indonesian National Defense Forces (TNI)/ the National Police (Polri) Levels on 15 July 2021 on the Mobility Restrictions Ahead of Eid al-Adha.
The Spokesperson said the Circular covers aspects of community mobility restrictions, restrictions on religious and traditional activities during Eid al-Adha, as well as restrictions on tourism activities and other community activities.
Furthermore, Wiku explained several provisions contained in the Circular.
First, all forms of travel for people outside the region are temporarily restricted. Exceptions are made for essential and critical sector workers and individuals with urgent needs. The urgent needs include critically ill patients, pregnant women with a companion of one family member, childbirth with a maximum of two companions, and transporting a non-COVID-19 deceased person with a maximum of five people.
"This excluded traveler is required to show an STRP (Worker Registration Certificate) which can be accessed by workers from the leadership in their employment agency and for the public, a certificate from the regional government," Wiku said.
Long-distance travelers from and to the islands of Java and Bali are required to show a vaccination card as well as a negative result of RT-PCR test taken within 2×24 hours or rapid antigen tests taken within 1×24 hours. Meanwhile, long-distance travelers from and to areas outside Java and Bali are required to show a negative result of RT-PCR test taken within 2×24 hours or rapid antigen tests taken within 1×24 hours.
"To travel from and to the island of Java-Bali, the traveler must show a certificate of the first dose of vaccine, except for logistics vehicles and travelers in the urgent category," he said.
Second, travelers under the age of 18 are temporarily restricted.
Third, congregational worship/religious activities in regions included in the Emergency PPKM (public activity restrictions), Micro PPKM with tightened restrictions, and non-Emergency PPKM regions/cities with Red or Orange Zone status are cancelled and carried out in their respective homes.
"As for other regions outside this coverage, they can carry out congregational worship activities with a maximum capacity of 30 percent in the house of worship, with strict implementation of health protocols," he added.
Fourth, the entire community is encouraged to conduct virtual gatherings, to reduce the transmission of COVID-19 both from distant and close relatives.
"The functions of Village/Urban Village Command Posts that have been formed will be optimized to enforce appeals in the field, with applicable sanctions," said Wiku.
Fifth, all tourist attractions on the islands of Java and Bali as well as regions that run PPKM with tightened restrictions are temporarily closed. Meanwhile, non-Emergency PPKM and non-PPKM regions can continue to operate with a maximum capacity of 25 percent and with the implementation of strict health protocols.
In addition, Wiku also asked all stakeholders to disseminate the Circular
"On policy monitoring, management, and evaluation, the Government will continue to seek coordination between the central and the regions, and this is done both by recording and reporting the actual. We ask regional governments to cooperate well with sectors that are directly or indirectly related to policy implementation," he said. (UN) (FI/MMB)