COVID-19 Task Force Must Be Established Until Lowest Administrative Levels: President Jokowi
By
Office of Assistant to Deputy Cabinet Secretary for State Documents & Translation &nbsp &nbsp
Date
18 April 2020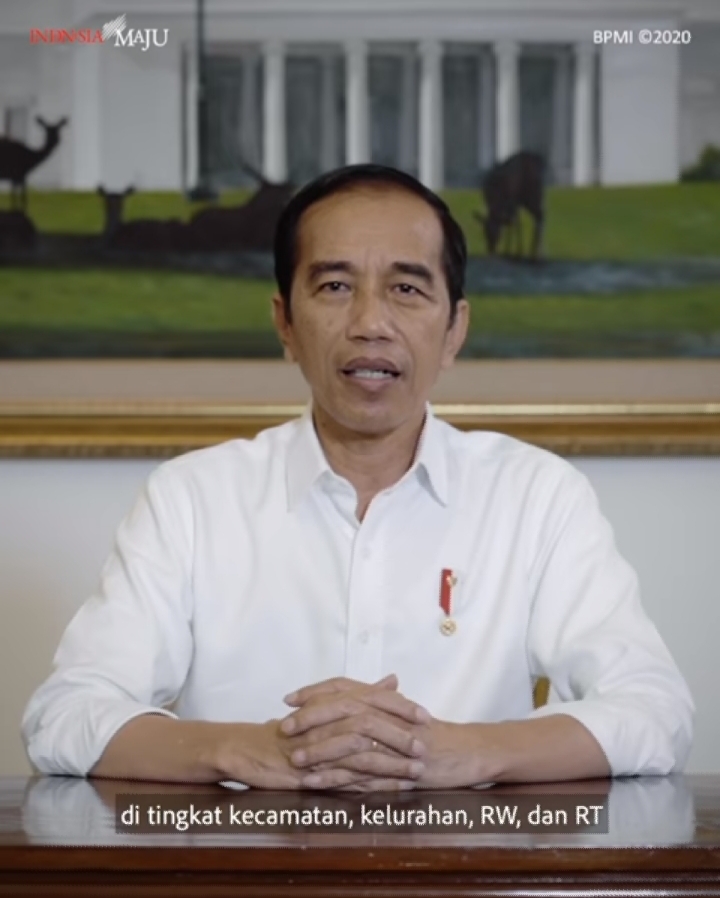 COVID-19 Task Force unit should be established in district, sub-district, and community levels, President Joko "Jokowi" Widodo has said.
"Communities must help anyone showing symptom of the coronavirus and anyone who needs help," the President said in his remarks delivered via Presidential Secretariat YouTube channel on Saturday (18/4).
According to the President, support from communities is pivotal to ensure that measures to tackle the COVID-19 pandemic are integrated and well-coordinated, adding that the pandemic has spread to 213 countries.
"Developing countries and developed countries alike are fighting against this pandemic," he said.
As of today, according to the President, there is no vaccine yet to cure the virus but the spread can be prevented by strong self-discipline.
"Self-discipline is important, including self-discipline in wearing facemasks, practicing physical distancing, avoiding crowds, working from home, learning from home, and worshiping at home," the President said.
The Head of State also praised social cohesion in communities during the ongoing outbreak.
"The story of a community that helps someone with COVID-19 symptoms is an example that must be emulated," the President said, adding that mutual cooperation should also be implemented in communities, including in economic sector.
"Community solidarity reinforces the nature of Indonesia as a nation of fighters and a nation who upholds the spirit of gotong royong (mutual cooperation) who always find strength and local wisdoms in the midst of a crisis," he said, adding that the Government cannot work alone so that participation of the whole society is of great importance.
On that occasion, the President also ordered regional governments to significantly increase testing for coronavirus and carry out aggressive tracking followed by quarantine measures.
"It is not easy for us but I strongly believe that if we can go through these trying times together, we will instead become a nation that is getting stronger and ready to achieve a more prosperous future," the President concluded. (HIM/EN)
Translated by: Ridwan Ibadurrohman
Reviewed by: Muhammad Ersan Pamungkas