CPNS Moratorium Still Applies: Minister PANRB
By
Office of Assistant to Deputy Cabinet Secretary for State Documents & Translation &nbsp &nbsp
Date
19 Januari 2017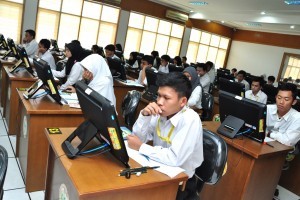 Responding to the criminal cases related with the recruitment of Civil Servant Candidates (CPNS) that occured lately, the Minister of State Apparatus Empowerment and Bureaucratic Reform (PANRB) Asman Abnur asserted that until now, the Government has not opened the recruitment of CPNS."The Government, until now, has not opened the formations for CPNS recruitment. The moratorium still applies," Asman said atthe Ministry of PANRB, Jakarta, on Thursday (19/1) morning.
Asman Abnur emphasized that the recruitment of CPNS would be nationally announced through the Ministry of PANRB when the moratorium has ended. Therefore, the Minister asked the people to be cautious and do not trust misleading information about CPNS recruitment.
The Minister also firmly said that the process of the recruitment is free. "I assert that the process of CPNS recruitment is free. All you need are qualifications as well as competencies to be able to pass the selection test," the Minister added.
Thus, the offenders of the fraud must go through a legal process. "Those who give or receive the money violate the law, because the Government has announced that the process of CPNS recruitment is free," the Minister said while adding that they would get legal sanctions.
If the offender of CPNS fraud is a civil servant, according to Asman, he/she will get severe sanction, besides going through a legal process, that is dismissal of the concerned person from his/her institution.
For the record, there was a fraud of CPNS recruitment which implicates the Regional Government of West Java. The crime could be unveiled because the offenders recklessly gathered hundreds of his fraud's victims at Gedung Sate, Bandung. They have deposited tens of millions of rupiah to get a fake CPNS Appointment Letter.
There were, at least, 200 people, who were asked to come on Thursday, 12 January 2017, to attend the Governor's Briefing at Gedung Sate. According to the plan, there were 645 people who were invited and divided in several groups. They, who come from various areas in West Java, have received fake PNS Appointment Letter for various positions, for example teacher and Civil Service Police Unit (Satpol PP).
Based on the investigation, there are two people who become the mastermind of this fraud, one person was caught but another one escaped. The suspect's name, who was brought to Bandung Police Precinct, is Lalan Suherlan and lives in Babakan Cianjur, Cihampelas Subdistrict, West Bandung Regency. He is, actually, a civil servant who works for Satpol PP in Cihampelas Subdistrict, West Bandung.
To avoid similar crime, all people is encouraged to be cautious and to search the most updated information about CPNS recruitment atthe official website of the Ministry of PANRB at www.menpan.go.id. Should any person knows about CPNS fraud, he/she can report this crime immediately to the Police or to www.lapor.go.id.  (Humas Kementerian PANRB/ES)  (MMB/YM/Naster)