Education Ministry Offers Overseas Teaching Jobs for Indonesian Non-Government Teachers
By
Office of Assistant to Deputy Cabinet Secretary for State Documents & Translation &nbsp &nbsp
Date
26 April 2019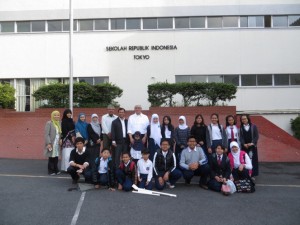 Ministry of Education and Culture has offered teaching positions for capable and interested non-civil servants teachers and education personnel to be assigned at Indonesian schools abroad.
Ministry of Education and Culture Secretary General Didik Suhardi in his announcement on April 18, 2019, revealed that the formations are available in these following cities: Riyadh, Jeddah (Saudi Arabia), Cairo (Egypt), Yangon (Myanmar), Kuala Lumpur (Malaysia), Tokyo (Japan), Davao (Philippines), Singapore, Bangkok (Thailand), and Kota Kinabalu (Malaysia).
Meanwhile, teachers and education personnel needed are as follows: 1. Indonesian Language Teacher; 2. English Language Teacher; 3. Guidance and Counseling Teacher; 4. Class Teacher; 5. Biology Teacher; 6. Physics Teacher; 7. Chemistry Teacher; 8. Social Science Teacher; 9. Economics Teacher; 10. Geography Teacher; 11. Mathematics Teacher; 12. Islamic Education Teacher; 13. Christian Religious Education Teacher; 14. Physical Education, Health and Sports Teacher; 15. Hospitality Teacher; 16. Citizenship Education Teacher; 17. Cultural Arts Teacher; 17. Information and Communication Technology Teacher; and 18. Education Personnel.
There are special requirements to meet besides the general requirements such as Indonesian citizen and maximum age of 40 years. The special requirements include: a. a non-civil servant teacher; b. a minimum Bachelor's degree under the respective fields with a minimum GPA of 2.75; c. a Professional Certificate Educators linear to the positions proposed; d. TOEFL Prediction Score of at least 450 or a minimum IELTS 5.0; e. teaching experience of at least two years; f. preferably having national level certificates/awards as additional skills besides teaching, such as: sports, scouts, cultural arts, religion, crafts, information communication technology (ICT), accounting/finance, etc.
It is stated in the announcement that the Tokyo SILN applicants are preferably male and have the ability to drive four-wheeled vehicles, proven by attaching a photocopy of the driving license.
Registration for these vacancies is opened from April 18 to May 8, 2019, while the administrative selection results will be announced on May 14, 2019. The applicants who pass the administration will undergo a series of tests on May 21-24 2019 and the selection result will be announced in June 2019.
The applicants must register online through the web: http://mutasi.sdm.kemdikbud.go.id/siln to acquire a username and a password by entering the applicants' name, place of birth, date of birth, e-mail address, educator's professional certificate number, Unique Identification Number for Teacher and Education Personnel (NUPTK), and/or National School Identification Number (NPSN).
After the above process is completed, the applicants will be sent a username and a password used for registering by the Secretary of the Joint Selection Committee through an email.
It is stated in the announcement that the Joint Selection Committee does not serve communications with applicants of any kind.
Applicants are expected to always monitor information development announced on Ministry of Education and Culture official website. (Ministry of Education and Culture Public Relations/ES)
Translated by : Fairuzzamani Inayatillah
Edited by : M. Ersan Pamungkas