Energy, Mineral Resources Ministry Launches Indonesia's First Electric Taxi on Earth Day
By
Office of Assistant to Deputy Cabinet Secretary for State Documents & Translation &nbsp &nbsp
Date
22 April 2019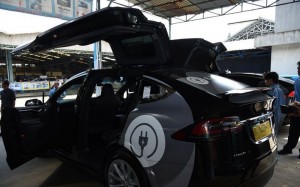 In conjunction with Earth Day, which falls on Monday, 22 April 2019, Minister of Energy and Mineral Resources Ignasius Jonan launched electric taxi fleet for Indonesia's taxi operator Blue Bird, in Jakarta.
In the first phase, Blue Bird uses 25 units China's BYD electric cars and 5 Tesla cars for Blue Bird and Silver Bird. The units will be increased to 200 electric cars in 2020.
The Minister appreciated the launching of Indonesia's first electric taxi since it is in line with the Government's efforts to diversify energy resources to environmentally friendly energy.
"Allow me to express my appreciation to PT Blue Bird for initiating the operation of full charging electric cars. The Ministry of Energy and Mineral Resources supports the efforts made by the taxi company. I also think that the Ministry of Environment also shares similar opinion because electric cars emit less emissions and cause less pollution," Jonan said in Jakarta, Monday (22/4).
The Minister went on to say that the state-owned electricity company PLN will develop General Electricity Provider Stations (SPLU) in several locations to support the operation of electric cars. To date, PLN has developed 1,600 stations and the number will be increased by 2,000 stations this year. In addition, to make electric taxis charge faster, PLN is also requested to develop 40 KV fast charging station that can speed up charging process of electric cars to 25 minutes.
Jonan also suggested Blue Bird to charge their electric taxis during off-peak hours from 10 pm to 6 am when PLN providing discount up to 30 percent in order to reduce spending on charging costs. Therefore, though electric cars are more expensive than petrol cars, the energy costs are cheaper, which is around Rp 1,000 per watt or about 40% of the fuel price.
On the same occasion, Director of PT Blue Bird, Adrianto Djokosoetono asserted that the procurement of electric taxi is part of Energy and Mineral Resources Minister's directives to support environmental preservation, and provide added value to the national energy security and mix program, the reduction of fuel use and subsidy programs, and the Government's gas emission reduction program.
"Two years ago, Minister of Energy and Mineral Resources Ignasius Jonan and Minister of Transportation Budi Karya Sumadi told me about contribution that can be made by taxi operator to reduce emission, namely adopting electric cars. After a long deliberation and discussion with several institutions to formulate plans, today, on the Earth Day, we finally can materialize the plans," Adrianto said.
The operation of 200 electric cars in 2020 is expected can reduce 434.095 kg of CO2 emissions or 1,898,182 litres of fuel consumption; while the addition of 2,000 electric cars during a period of 2020-2025 is predicted can reduce 21,704,760 kg of CO2 emissions or 94,909,091 litres of fuel consumption, Adrianto concluded. (Minister of Energy and Mineral Resources PR/ES)
Translated by : Rany Anjany Subachrum
Edited by : Mia Medyana Bonaedy