Energy Minister Ensures Adequate Fuel Supplies along Trans Java Toll Road
By
Office of Assistant to Deputy Cabinet Secretary for State Documents & Translation &nbsp &nbsp
Date
12 Mei 2019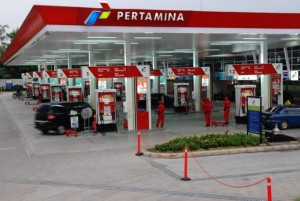 Fuel supplies to meet demands from travellers of this year's mudik (an annual exodus ahead of Eid Day) season along the Trans Java toll road are safe, according to Minister of Energy and Mineral Resources Ignasius Jonan.
However, Jonan urged the travelers who travel with private four-wheel vehicles to have their vehicles refueled before entering the 938-kilometer toll road.
"This is done to prevent traffic jams when vehicles run out of fuel on the toll road and queue in gas filling stations," Jonan said after monitoring fuel supplies at two gas stations in Ngawi and Solo, Saturday (11/5).
For the record, the two gas stations monitored were already in operation and expected to sell fuel for mudik travellers across the Surabaya – Semarang toll road, one of several toll roads within the Trans Java toll road.
Jonan went on to say that the gas stations located on the Surabaya – Semarang toll road are in a good condition and can meet fuel demands.
"Based on our observation, the operation of those gas stations has been maximized. The distance from Surabaya to Ngawi is around 160 kilometers. So, one gas station in every 100 km is sufficient," he said.
Overall, along the toll roads from Jakarta to Surabaya, according to Jonan, 54 large gas stations have been prepared including 10 new gas stations and 16 mobile dispensers. These mobile dispensers only operate during the peak days of mudik and reverse traffic flow, or 15 days before Eid Day and 15 days after the D-day, he added.
In the meantime, to anticipate the surge of travelers on the toll road, President Director of state-owned oil and gas company PT Pertamina Nicke Widyawati explained that the company had built new gas stations and installed mobile dispensers. Other supporting facilities, she added, have also been also prepared, including 200 fuel delivery motors, mobile storage facilities, and Pertamax kiosks.
"We have predicted possible increase (in traffic) compared to that of last year. To that end, we will add the number of gas stations," Nicke said.
For toll roads in Central Java province alone, six gas stations, 15 Pertamax Kiosk, six Pertamax Porches, 45 mobile storage facilities and 60 fuel delivery motors have been prepared, while for toll roads in East Java, five large gas stations have been in operation with an average number of nozzles of 27 to 37 units. As many as seven mobile dispensers equipped with nozzles with a capacity of 24 thousand to 32 thousand liters will also be in operation in the province.
PT Pertamina has also ensured that two weeks before Eid Day, all gas stations are fully operational, with an average tank capacity of 60 kiloliters. (Public Relations of Ministry of Energy and Mineral Resources/ES) 
Translated by: Muhardi
Edited by: M. Ersan Pamungkas