EU Lifts Flight Ban on All Indonesian Airlines
By
Office of Assistant to Deputy Cabinet Secretary for State Documents & Translation &nbsp &nbsp
Date
15 Juni 2018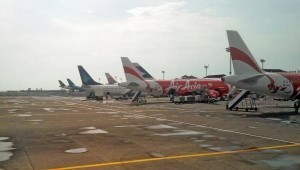 The European Union ban on Indonesian airlines has now been lifted. Based on European Commission's press release on 14 June 2018, the EU's executive body, the European Commission, has cleared all Indonesian airlines from the EU Air Safety List, which prohibits a number of airlines from operating within EU member states.
The European Commissioner for Transport Violeta Bulc in the press release said that the EU Air Safety List is one of main instruments to continuously offer the highest level of air safety to Europeans. "I am particularly glad that after years of work, today we are able to clear all airlines from Indonesia from the list. It shows that hard work and close cooperation has paid off," Violeta Bulc added.
For the record, the EU banned all Indonesian airlines in 2007 due to unaddressed safety concerns. Decisions to lift flight ban on all Indonesian airlines within the European Union is a long series of efforts made by the Indonesian Government.
Previously, the EU gradually removed several Indonesia's airlines from the EU Flight Safety in 2009, 2011, and 2016. Before making the decision, the EU also conducted EU Assessment Visit to Indonesia from 12 to 21 March 2018.
Results of the evaluation were discussed in Air Safety Committee held in Brussels, Belgium on 30 May 2018, attended by the Government of Indonesia and three Indonesian airlines: Wings Air, Sriwijaya Air, and Susi Air.
Following the decision, the main carriers (Garuda Indonesia, Airfast Indonesia, Ekspres Transportasi Antarbenua, Indonesia Air Asia, Citilink, Lion Air and Batik Air) were removed from the list and can fly to any location within Europe.
In the meantime, Indonesian Ambassador to the European Union, Yuri O. Thamrin said that Indonesia is a country with a huge aviation industry potential and the decision is a token of trust to Indonesia's aviation authorities and airline companies.
He added that the decision is also in line with the opinions of various international aviation agencies including the Federal Aviation Administration (FAA) and the International Civil Aviation Organization (ICAO) which recorded significant improvements made by Indonesia's aviation industry.
"The lifting of the flight ban for all Indonesian airlines is a form of EU's recognition to the Indonesian Government in improving air safety in the country." Yuri said, while expressing his hope that the decision can be a drive to continue improving air safety including in supporting tourism industry throughout the country. (Embassy of the Republic of Indonesia in Brussels /ES) (RAS/EP/Naster)