Freeport Divestment Finalized, Special Mining Business Licence Replaces Contract of Work
By
Office of Assistant to Deputy Cabinet Secretary for State Documents & Translation &nbsp &nbsp
Date
21 Desember 2018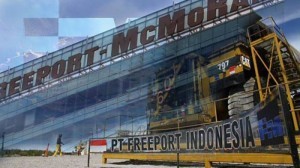 After two years of negotiation involving the Indonesian Government, state-owned mining holding company PT Inalum, Freeport McMoRan Inc. (FCX), and Rio Tinto, PT Inalum on Friday (21/12) officially holds majority ownership of PT Freeport Indonesia (PTFI) through share divestment.
The finalization of share divestment is marked by payment process and issuance of Special Mining Business Licence for Operation and Production (IUPK-OP) to replace Contract of Work (KK) of PTFI which was entered into force in 1967 and renewed in 1991 that will expire in 2021.
Based on press release of Ministry of Energy and Mineral Resources, Inalum bought some of Freeport McMoRan Inc. (FCX) shares and Rio Tinto participating interest with the closure of a US$3.85 billion deal, increasing Inalum's ownership from 9.36 percent to 51.23 percent.
"The ownership of 51.23 percent consists of 41.23 percent of Inalum share and 10 percent of Regional Government of Papua's share. Share of Regional Government of Papua will be managed by Papuan metal and mineral company PT Indonesia Papua Metal dan Mineral (IPPM) in which its shares are owned by PT Inalum (60 percent), and Papuan provincial administration-owned enterprises (40 percent)," press release of Ministry of Energy and Mineral Resources on Friday (21/12) reads.
Inalum will give loan amounting to US$819 million to Papuan provincial administration-owned enterprises (BUMD) with 40 percent of IPPM share as collateral.
"The loan will be paid in installments by using dividend of BUMD from PTFI. However, the dividend will not be used entirely to pay the installments. There will be cash payments received by the Regional Government," Ministry of Energy and Mineral Resources says.
The press release reads ownership structure of Papuan Regional Government has a common structure and based on all aspects, including in term of tax that is considered more efficient for all shareholders, and in term of protection of private sector in the ownership.
For the record, the Special Mining Business Licence (IUPK) was submitted by Director General for Mineral and Coal Bambang Gatot Ariyono to Director of PTFI Tony Wenas, witnessed by Secretary General of the Energy and Mineral Resources Ministry Ego Syahrial, Secretary General of the Finance Ministry Hadiyanto, Inspector General of Forestry and Environment Ministry Ilyas Asaad, Deputy-Mining, Strategic Industries & Media at Ministry of State-owned Enterprises Fajar Harry Sampurno, President Director of Inalum Budi G. Sadikin, and CEO of FCX Richard Adkerson, at the Ministry of Energy and Mineral Resources Office, Central Jakarta, Friday (21/12).
With the issuance of this IUPK, PT Freeport Indonesia will have legal certainty and certainty of doing business by obtaining an extension of the 2×10 year operating period until 2041, and obtaining fiscal and regulatory guarantees. The PTFI will also build a smelter within five years.
Furthermore, the press release stated that the completion of the divestment process had proven that Indonesia still complies to the constitution which mandated the independent management of natural resources without having to nationalize foreign ownership. (Energy and Mineral Resources Minister PR Division/ES)
Translated by : Rany Anjany Subachrum
Edited by : Yuyu Mulyani