Government Assigns Presidential Doctor to Monitor the Condition of Former President B. J. Habibie
By
Office of Assistant to Deputy Cabinet Secretary for State Documents & Translation &nbsp &nbsp
Date
4 Maret 2018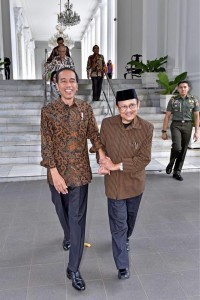 President Joko 'Jokowi' Widodo informed that the third President of the Republic of Indonesia, Bacharuddin Jusuf (B.J.) Habibie, is now hospitalized in a hospital in Munchen, Germany.
Therefore, President Jokowi invited all Indonesian people to pray for the recovery of B. J. Habibie. "Let's pray for the recovery of Pak Habibie. Hopefully he will get well soon and be in a good health," the President posted in his facebook fanpage.
According to the President, the Government to assign presidential doctor to directly monitor health condition of B. J. Habibie in Germany. The President ensured that the Government will provide the best support for him.
Valve Regurgitation
Personal Assistant of B. J. Habibie, Rubijanto, in his written message on Thursday (1/3) said that he has called B. J. Habibie in Germany. Pak Habibie experienced asphyxia and immediately taken by his friends to Starnberg Clinic in Munchen.
"A team of doctor immediately examined him and found valve regurgitation", Rubijanto explained.
The team recommended heart surgery but B. J. Habibie chose a surgery with a more sophisticated method. (ES)(MMB/YM/Naster)