Gov't Asks People Not to Worry about Foreign Workers
By
Office of Assistant to Deputy Cabinet Secretary for State Documents & Translation &nbsp &nbsp
Date
22 April 2018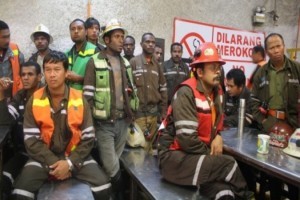 Minister of Manpower M. Hanif Dhakiri asked the public not to worry about the issuance of Presidential Regulation Number 20 of 2018 on Recruitment of Foreign Workers.
The Regulation aims to simplify the procedures without eliminating the principle of selective use of foreign workers, which may only occupy certain positions as experts.
"By simplifying the licensing rules of foreign workers, it is expected to increase competitiveness, economic growth and investment, create business certainty, reduce high economic costs, and promote administrative efficiency," Hanif said, in Semarang, Central Java, on Friday (20/4).
He stressed that this regulation does not exempt foreign workers to work in Indonesia. The Regulation only makes the procedures and bureaucracy process easier so that issuance of working permit for these foreign workers is not complicated.
During this time, the Minister continued, it is complicated because there are a number of ministries involved in the process. As a result, investments are impeded. Therefore, this Presidential Regulation is important to increase investment.
"The main objective is to create greater employment opportunities for Indonesian people," the Minister said. He also added that the number of foreign workers in Indonesia is relatively small compared to the number of foreign workers in other countries and the number of Indonesian Migrant Workers (TKI) abroad.
In the meantime, according to Minister Hanif, there is a huge gap between the number of foreign workers in Indonesia and the number of our workers in other countries. Based on data from Ministry of Manpower, in total, there are 126 thousand foreign workers in Indonesia, while the number of TKI abroad reaches 9 million.
"There are 170 thousand of our TKI in Hong Kong, 200 thousands in Taiwan and about 20 thousand in Macau, meanwhile there are only 36 thousand foreign workers from China," the Minister concluded. (Humas Kemnaker/ES) (GWH/MMB/Naster)