Gov't Asks People to Stay Alert Due to Heavy Rain
By
Office of Assistant to Deputy Cabinet Secretary for State Documents & Translation &nbsp &nbsp
Date
26 November 2018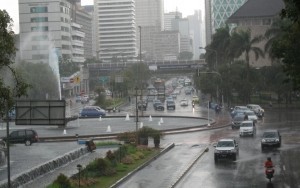 The Meteorology, Climatology, and Geophysics Agency (BMKG) has monitored and analyzed rainfall which showed that several regions in Java Island have been raining for the past few weeks and causing hydro meteorological disasters such as floods and landslides.
Deputy for Meteorology of the BMKG, Mulyono R. Prabowo, explained that the existence of fairly persistent closed wind circulation above Java Sea for the next 3 days resulted in the formation of wind areas along Java, Bali, to East Nusa Tenggara.
"Such condition gives impact on the increasing of rain clouds in the region," Prabowo said in a press release on Monday (26/11).
According to Prabowo, the wet air from Indian Ocean also caused the growth of rain clouds in the southern Sumatra, Java, Bali, Nusa Tenggara, South Kalimantan, South and Southeast Sulawesi, and Maluku.
"This condition can lead to heavy rain potential followed by lightning and strong winds especially in Java, Bali, West Nusa Tenggara (NTB), and East Nusa Tenggara (NTT) in the next five days (November 26-30 2018)," Prabowo added.
Thus, Prabowo asked the public to remain cautious to the possible impacts due to this weather conditions, such as floods, landslides, strong winds, fallen trees, and slippery roads.
For those seeking the latest weather information, can contact the 24-hour BMKG information service, via:
– call center 021-6546315/18;
– http://www.bmkg.go.id;
– twitter @infobmkg;
or directly contact the nearest BMKG office.
(EN/PR of BMKG/ES)
Translated by: Estu Widyamurti
Edited by: Yuyu Mulyani