Gov't Bans Crowd-Pulling Celebrations During Christmas and New Year Holidays
By
Office of Assistant to Deputy Cabinet Secretary for State Documents & Translation &nbsp &nbsp
Date
15 Desember 2020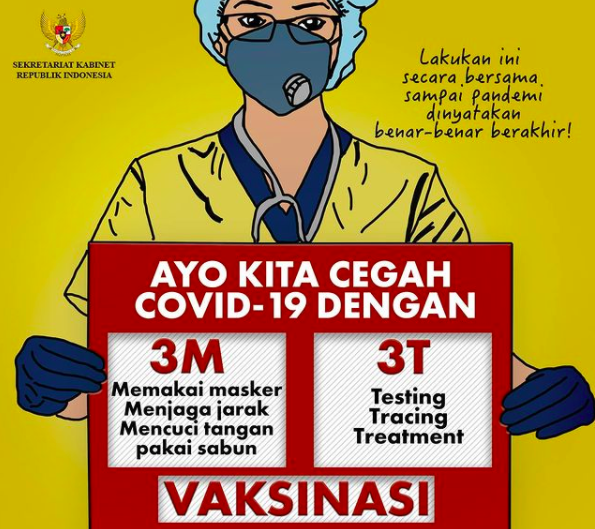 In a bid to anticipate a spike in new COVID-19 cases after the Christmas and New Year holidays, the Government has made a decision to ban crowds and New Year 2021 celebrations in public places.
The decision was taken at the Virtual Coordination Meeting of COVID-19 Handling in Jakarta Province, West Java Province, Central Java Province, East Java Province, and Bali Province, Monday (14/12).
According to Coordinating Minister for Maritime Affairs and Investment Luhut B. Pandjaitan, who also serves as Deputy Chairman of the COVID-19 Mitigation and National Economic Recovery, the ban will start on 18 December 2020 to 8 January 2021.
The issuance of the policy is based on a significant increase in active cases that continue to occur after the holidays and collective leave at the end of October.
"The number of positive cases and fatality rates has continued to increase after holidays in 8 and 20 provinces," the Minister said.
Those provinces, namely Jakarta Province, West Java Province, Central Java Province, East Java Province, South Sulawesi Province, North Sumatra Province, Bali Province, and South Kalimantan Province.
In particular, the Minister urged the Jakarta Governor Anies Baswedan to tighten the implementation of work-from-home order to be conducted by 75 percent of office workers.
"I also asked the governor to continue the policy of limiting malls operating hours to 07:00 p.m. and limiting the number of people gathering at dining places, malls, and entertainment venues," Luhut said.
Luhut also asked shopping center owners through the governor to be able to provide rent or service charge relief to their tenants in order to alleviate their burden under the renewed restrictions.
"Rental and service charge relief schemes must be mutually agreed between shopping centers and tenants. For instance, prorate, profit sharing, or other schemes," he said.
Furthermore, Luhut requested to restrict and ban any activities that could potentially gather large numbers of people, such as celebrations and religious events. He suggested that the activities could be carried out online.
The Minister also requested the Indonesian National Defence Forces (TNI) and the National Police (Polri) to intensify enforcement of the health protocol rules. "This will be preceded by a rally of the TNI/Polri personnel directly led by the President as a form of strong commitment," he said.
On that occasion, Luhut also delivered his directives to West Java, Central Java, and East Java Governors to optimize the provinces' use of isolation centers, strengthen justice operations to ensure the implementation of centralized isolation and carry out 3M health protocols (wear a face mask, keep distance, and wash hands).
"I urged regional governments to also tighten social restrictions based on urban and suburban/rural contexts," the Minister said.
In the urban/urban context, he added, regional governments should tighten the implementation of work-from-home order and limit the operating hours of restaurants, entertainment, malls until 08:00 p.m. local time.
For rural areas, regional governments should strengthen the implementation of social restrictions at micro and community scale.
For Bali Province and others, Luhut ordered regional heads to tighten health protocols in rest areas, hotels and tourist attractions.
"We urge tourists boarding a plane to Bali to take the PCR est two days before their flight to Bali and require the rapid antigen test before land travel to Bali," he concluded.
In order to regulate the mechanism, Luhut asked Minister of Health, the Head of the National Disaster Management Agency, and Minister of Transportation to immediately regulate the procedures. "Today, I ask that the SOP for the use of the antigen rapid test will be completed immediately," he added. (PR of Coordinating Ministry for Maritime Affairs and Investment/UN) (RIF/LW)