Gov't Completes Building New House for Sprinter Zohri
By
Office of Assistant to Deputy Cabinet Secretary for State Documents & Translation &nbsp &nbsp
Date
21 Mei 2019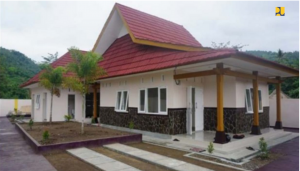 Ministry of Public Works and Public Housing, on behalf of the Government, has completed a renovation of an old house belongs to Lalu Muhammad Zohri, an Indonesian sprinter who bagged a gold medal in the 2018 IAAF World U20 Championship in Tampere, Finland, and has also completed the construction of his new house located in North Lombok Regency, West Nusa Tenggara. For the record, Zohri had successfully secured a spot at the 2020 Tokyo Olympics a week ago.
Last year, President Joko "Jokowi" Widodo has instructed Minister of Public Works and Public Housing Basuki Hadimuljono to construct a new house for Zohri as a token of appreciation for his achievement. The construction is done by the Ministry in collaboration with North Lombok Regional Government that provided 500-meter square plot of land located in Telaga Wareng Hamlet, Pemenang Barat Village, North Lombok Regency, about 1.5 km from Zohri's old house.
The construction of the 60-meter square house which contains three bedrooms, a bathroom and a living/kitchen area is funded by the 2018 State Budget amounting Rp591 million.
As for the old house which was renovated, the old design is maintained on the family's request. "The family of Zohri wanted the design of the house to be maintained since it has a lot of memories," Basuki said.
The house – which renovation also involved the Indonesian National Defense Force (TNI) and the Indonesian National Police (Polri) – used earthquake-resistant structure and equipped with homogenous tile and biofilter septic tank. The renovation, that spent Rp30 million, covered wall, roof, and tile remodeling, as well as installation of furniture, including cupboard, chairs, and beds which were donated by the Indonesian Athletics Association (PASI).
After the renovation is completed, the house which has one bedroom, a small kitchen area, a bathroom, and a living area looks beautiful now with brownish-painted wooden walls, and looks exactly like Zohri's old house.
Translated by : Rany Anjany Subachrum
Edited by : Mia Medyana Bonaedy