Gov't Conducts Outreach of 78th Independence Day Anniversary Logo
By
Office of Assistant to Deputy Cabinet Secretary for State Documents & Translation &nbsp &nbsp
Date
12 Juni 2023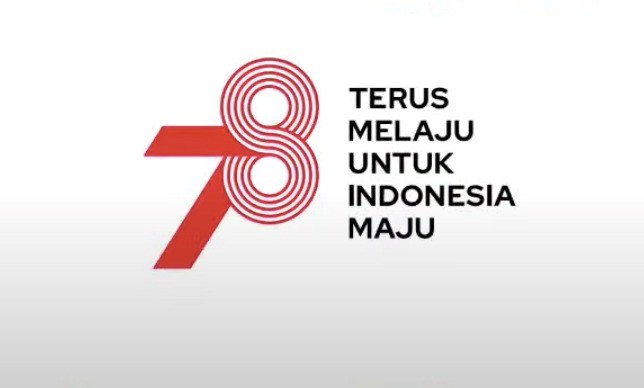 Ministry of State Secretariat Monday (06/12) conducted an online outreach of the theme and logo of the 78th Independence Day Anniversary.
The anniversary logo consists of a solid red number seven and a number eight formed by five red lines, whereas the theme is "Moving Forward for an Advanced Indonesia."
"This is the logo that the President picked," Head of the Presidential Secretariat Heru Budi Hartono said in the outreach attended by representatives of ministries, government agencies, and regional governments.
According to Heru, the logo as a whole represents assertiveness, stability, straightforwardness, and unity, symbolizing a continuing collective growth rate, a nation that has collective responsibility, and a harmonious movement toward an Advanced Indonesia.
Heru, who also acts as the Chief Executive of the 78th Anniversary of the Independence Day of the Republic of Indonesia, appealed to all ministries, government agencies, and regional governments to intensively use the anniversary logo in their respective media.
"Banners, LEDs will be available in mid-July to enliven [the atmosphere] nearing August, the month of Independence," he said.
In the meantime, Head of the Indonesian Association of Graphic Designer (ADGI) Ritchie Ned Hansel stated that in line with the theme, the visual concept of the anniversary logo illustrates the continuation of development in the spirit of relay, progression, and collective responsibility based on Pancasila, mutual cooperation, forward movement toward an Advanced Indonesia.
"We hope the philosophical values and visual narration conveyed by the 78th Anniversary logo can light up the spirit of all Indonesian people to have a better vision in the future and to develop the nation into a better one," he said.
According to Expert Staff of Innovation and Creativity of Ministry of Tourism and Creative Economy Restog Krisna Kusuma, the anniversary logo was selected after a selection process conducted by the ministry and ADGI.
"The President selected the best logo, which was designed by Ms. Katarina Monika," he said. (FID/UN) (DH/MMB)