Gov't Ensures Fuel, Electricity Supply During Year-End Holiday
By
Office of Assistant to Deputy Cabinet Secretary for State Documents & Translation &nbsp &nbsp
Date
30 Desember 2018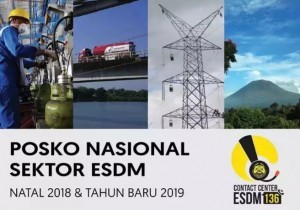 Ahead of the 2019 New Year holiday, the Indonesian Government guaranteed the supplies of fuel, gas and electricity, Ministry of Energy and Mineral Resources (ESDM) has announced.
The Ministry reported that Premium fuel supply is expected to last for 23 days, Solar/Akrasol supply is expected to last for 20 days, Pertalite for 21 days, Kerosene for 61 days, Pertamax/Akra 92 for 20 days, Pertamax Turbo for 52 days , Pertamina Dex for 43 days, Dexlite for 20 days and avtur for 25 days.
Meanwhile, distribution of LPG for household is in normal condition, with a 13% increase from the normal distribution average.
Current supply of LPG amounts to 409,683 metric tons and the realization of distribution is 24,266 metric tons, lasting for 19 days.
For the national electricity system until 28 December 2018, the status is safe in which the power can reach 35,189 megawatts.
Particularly for tsunami-affected areas in Tanjung Lesung, Anyer, Banten, and South Lampung, according to Ministry of Energy and Mineral Resources, the current electricity normalization has reached 100%, with the temporary house connections are only carried out in houses that have been declared safe.
However, in the Geology sector, there is one volcano with 'awas' (danger, the highest level) status and four volcanoes with 'siaga' (watch) status. Mount Sinabung (with 'awas' status) is reported to have no seismic activities; Mount Anak Krakatau (with 'siaga' status) has a continuous tremor, while Mount Merapi (with 'waspada' status) has 39 times earthquake collision.
Ministry of Energy and Mineral Resources also announced it will continue to coordinate with related stakeholders such as the Agency for the Assessment and Application of Technology (BPPT), the Indonesian Institute of Sciences (LIPI) and the Meteorology, Climatology and Geophysics Agency (BMKG) to mitigate the impacts of the tsunami. (Communication Team of ESDM/ EN)
Translated by: Estu Widyamurti
Edited by: M. Ersan Pamungkas