Gov't Has Disbursed Wage Subsidy to 3.25 Million Workers This Year
By
Office of Assistant to Deputy Cabinet Secretary for State Documents & Translation &nbsp &nbsp
Date
7 September 2021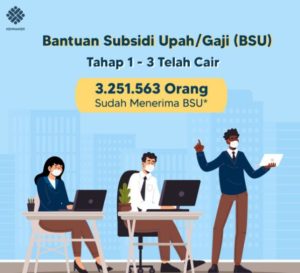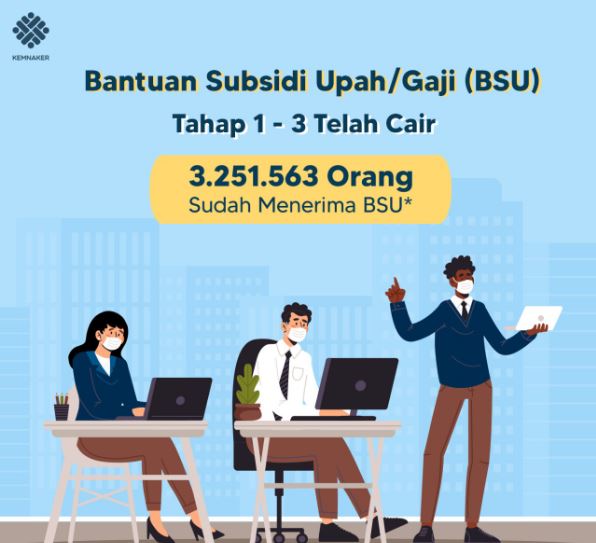 As of September 3, the Government has disbursed wage subsidy for 3,251,563 workers or 37.4 percent from the total target of 8.7 million beneficiaries this year.
"Thank God, the distribution of the third batch wage subsidy has been implemented. Yesterday in Semarang I inspected the implementation of collective bank account opening in which state-owned enterprises banks facilitated bank account opening for wage subsidy beneficiaries in several companies," Minister of Manpower Ida Fauziyah said in Jakarta, Tuesday (09/07).
For the record, this year's wage subsidy has been disbursed to 947,436 beneficiaries in the first batch, 1,145,598 beneficiaries in the second batch and 1,158,529 beneficiaries in the third batch.
Minister of Manpower Regulation Number 16 of 2021, she added, stipulates that wage subsidy is provided for workers who have not received other government assistance programs.
"To mitigate the duplication of beneficiaries and as a measure to ensure that wage subsidy program is on target, we did match the data of prospective wage subsidy beneficiaries with the database of beneficiaries of the Pre-Employment Card Program, Presidential Assistance Program, and Family Hope Program," Ida said.
The Minister further said that monitoring of wage subsidy program is carried out through several measures, including visiting workers who received the wage subsidy.
"Most of the wage subsidy beneficiaries use the money to fulfill their basic needs," the Minister remarked.
For the record, the distribution of wage subsidy per September 3, 2021 is as follows: Aceh (not yet distributed), Bali (71,640 beneficiaries), Banten (208.099 beneficiaries), Bengkulu (5,169 beneficiaries), Yogyakarta (83,215 beneficiaries), Jakarta (827,205 beneficiaries), Jambi (13,830 beneficiaries) , West Java (608,820 beneficiaries), Central Java (653,059 beneficiaries), East Java (447,355 beneficiaries), West Kalimantan (12,460 beneficiaries), Central Kalimantan (2,713 beneficiaries), East Kalimantan (30,389 beneficiaries), North Kalimantan (626 beneficiaries), the Riau Islands (54,286 beneficiaries), Lampung (20,816 beneficiaries), Maluku (4,923 beneficiaries), West Nusa Tenggara (6,844 beneficiaries), East Nusa Tenggara (256 beneficiaries), Papua (2,934 beneficiaries), West Papua (7,585 beneficiaries), Riau (34,791 beneficiaries), Central Sulawesi (7,106 beneficiaries), Southeast Sulawesi (5,216 beneficiaries), North Sulawesi (20,319 beneficiaries), West Sumatra (16,525 beneficiaries), South Sumatra (26,531 beneficiaries), and North Sumatra (78,852 beneficiaries).
(Public Relations of Ministry of Manpower/UN) (RI/EP)