Gov't Issues 49 Job Creation Law Implementing Regulations
By
Office of Assistant to Deputy Cabinet Secretary for State Documents & Translation &nbsp &nbsp
Date
21 Februari 2021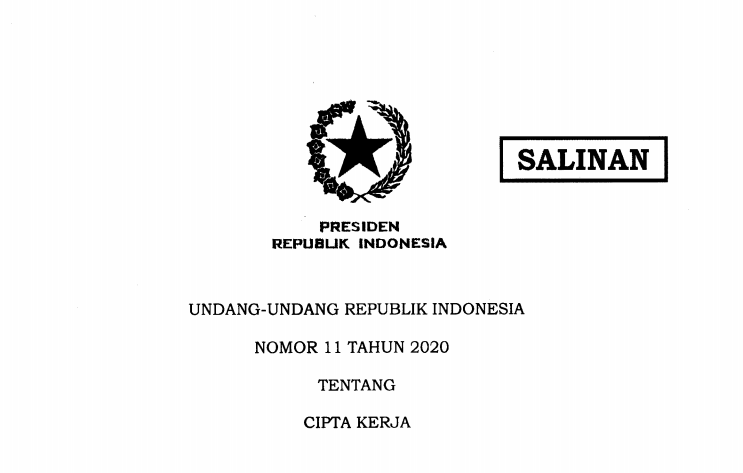 The Indonesian Government has issued 49 Implementing Regulations for Job Creation Law (UU Cipta Kerja). The Implementing Regulations, which consist of 45 Government Regulations (PP) and 4 Presidential Regulations (Perpres), have also been promulgated in the State Gazette of the Republic of Indonesia.
"The Job Creation Law aims to be a positive stimulus for the improvement and growth of the national economy that provides more jobs for the people. The Job Creation Law is also a breakthrough and a way for the Government to seize foreign investment through streamlining permits and cutting the red tape," Minister of Law and Human Rights Yasonna Laoly said as quoted by kemenkumham.go.id, Sunday (21/02).
Furthermore, Yasonna expressed hope the Implementing Regulations can speed up the national economy recovery and serve as a momentum for the awakening of Indonesia.
For the record, the Government on 2 November last year has issued Law Number 11 of 2020 on Job Creation. The law aims to provide high-quality job opportunities, empower micro, small, and medium enterprises (MSMEs), simplify business licensing, and improve the investment ecosystem to accelerate national strategic projects.
The implementation of Job Creation Law requires several technical implementing regulations which include the risk-based business licensing sectors; convenience, protection, and empowerment of cooperatives and MSMEs; taxation that supports ease of doing business; spatial planning; the environment and forestry; land; as well as the labor sectors.
Previously, the Government has stipulated Government Regulation Number 73 of 2020 on the Initial Capital of Investment Management Institutions and Government Regulation Number 74 of 2020 on Investment Management Institutions as implementing regulations for the Job Creation Law. In total, the Government is set to stipulate 49 Government Regulations and 5 Presidential Regulations as implementing regulations for the Job Creation Law.
The Implementing Regulations for the Job Creation Law can be accessed through the Legal Documentation and Information Network of Cabinet Secretariat at jdih.setkab.go.id. (Ministry of Law and Human Right PR/UN) (GWH/MUR)