Gov't Issues Circular on Travel Activities and Leave Restrictions for Civil Servants During Christmas, New Year Holidays
By
Office of Assistant to Deputy Cabinet Secretary for State Documents & Translation &nbsp &nbsp
Date
22 Desember 2020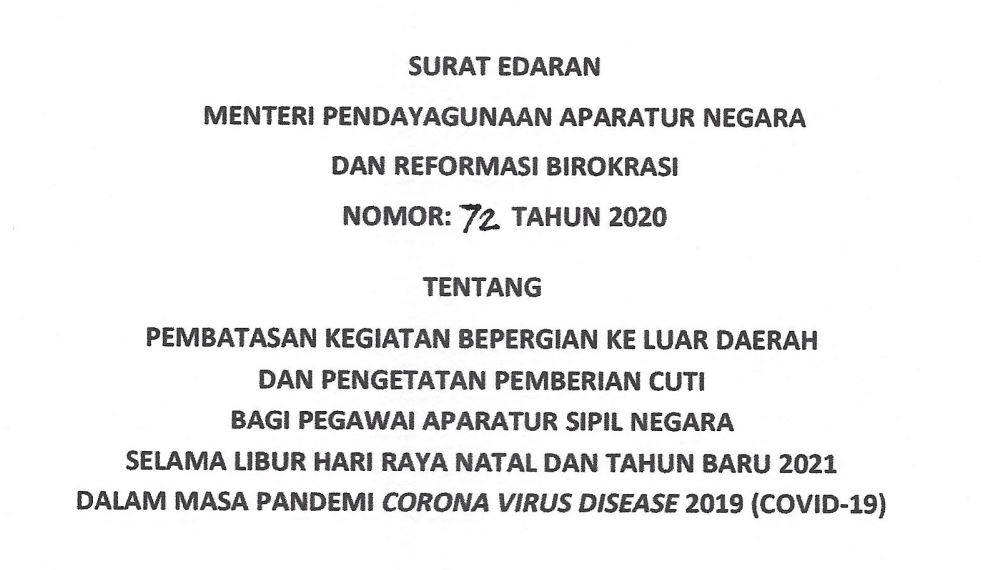 Minister of State Apparatus Empowerment and Bureaucratic Reforms (PAN-RB) has issued Circular Number 72/2020 on Travel Activities and Leave Restrictions for State Civil Apparatus (ASN) During the Christmas and New Year 2021 holidays amid the COVID-19 Pandemic, which will take effect from 21 December 2020 to 8 January 2021.
"We urge members of the state civil apparatus and their families not to travel out of town during the 2020 Christmas and 2021 New Year holidays," Minister of Administrative and Bureaucratic Reforms (PAN-RB) Tjahjo Kumolo said.
According to him, there are four things that must be considered if a state civil apparatus needs to travel out of town. They are as follows:
First, COVID-19 transmission risk zoning established by the COVID-19 Handling Task Force.
Second, regulations of local governments at their destinations in regardto people's movement restrictions
Third, travel protocols set by Ministry of Transportation and the COVID-19 Handling Task Force.
Fourth, health protocols set by Ministry of Health.
Regarding the collective leaves, it is carried out in accordance with Presidential Decree Number 17/2020 on the 2020 Collective Leaves for State Civil Apparatus as amended by Presidential Decree Number 23/2020.
The Personnel Supervisor Officers (PPK) in ministries/institutions are also urged to implement strict, selective, and accountable arrangements for the provision of personal leave days (regardless of collective leaves) to the ASN.
There are two points that must be considered by the PPK in  approving the request for taking personal leaves for the ASN. First, the needs and/or interests of the ASN taking personal leave days. Second, the requirements stipulated in Government Regulation (PP) Number 11/2017 on Civil Servants Management as amended by PP 17/2020 and PP 49/2018 on Contract-Based Government Employees (PPPK) Management.
For the record, the ASN discipline is pivotal in implementing the Circular to support the Government's measures to prevent the spread of COVID-19. The PPK should also ensure that the ASN always comply with health protocols and follow the Circular.
Any members of the ASN who violates the regulations will be punished according to PP 53/2010 on the Civil Servant's Disciplinary Code and PP No. 49/2018 (PR of PAN-RB Ministry/UN) (RIF/LW)