Gov't Issues New Procedures for Passport Applicants
By
Office of Assistant to Deputy Cabinet Secretary for State Documents & Translation &nbsp &nbsp
Date
20 Maret 2017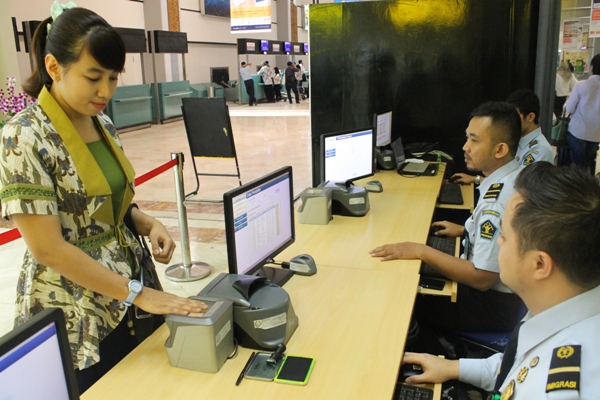 Directorate General of Immigration, Ministry of Law and Human Rights, on Monday (20/3) released an explanation on new procedures of passport issuance for Indonesian Citizens who will travel abroad.
The statement do not mention a requirement for new passport applicants to have Rp25 million saving deposit, who are indicated to be non-procedural Indonesian migrant workers, as it was previously reported in mass media.
The Ministry's Directorate General of Immigration Spokesperson Agung Sampurno explained that Immigration Directorate General's Circular Letter No. IMI-0277 GR.02.06 of 2017 on the Prevention of Non-procedural Indonesian Migrant Workers which was stipulated on 24 February 2017 is aimed at providing  technical guidelines for all officials of the Directorate General of Immigration in issuing passport and/or conducting immigration check in the Immigration Checkpoints (TPI) in order to prevent non-procedural Indonesian Migrant Workers.
"Thus, every Indonesian Citizen applying for passport as Indonesian Migrant Worker not only have to complete the general requirements such as attaching ID card, family card, and birth certificate, but also have to attach a Passport Recommendation Letter issued by regional offices of the Manpower and Transmigration Ministry, and must do a medical check-up in a health facility chosen by the Health Ministry," Agung said.
To verify the truth and validity of the recommendation letter, an immigration officer must check it through the Immigration Management and Information System (SIMKIM).
"If the applicant's name is not registered, the application will not be accepted," Agung firmly said.
If the applicants, during an inverview claimed that they are going to go abroad for a tour, a family visit, a minor haj, a non-quota haj, pilgrimage, or an internship, while they are actually planning to work, the immigration officer must learn about the truth by exploring additional information.
Moreover, the officer must also study the profiling and read gesture/body language of applicants until the officer is sure about applicants' intention and purpose for travelling abroad.
Agung explained that in order to be sure, the officer is given an authority to ask for additional requirements to the applicants, for example those who will go for family visit will be asked to attach an invitation and a letter of guarantee, as well as passport of family members living abroad.
"If they claimed that they are going for a minor haj, a non-quota haj, they must attach a recommendation letter issued by the Regional Office of Religious Affairs Ministry and letter of statement/guarantee from the Hajj and Umrah Travel Bureaus (PPIH/PPIU) that guarantees their departure and return to Indonesia," Agung added.
Agung also asserted that the measure taken by immigration officers is a way to monitor the immigration of Indonesian Citizens and to prevent non-procedural Indonesian Migrant Workers.
During the process in the TPI, immigration officer not only conducts immigration check by checking the passport and return ticket, but also authorized to conduct additional measures as mentioned, Agung added.
"If the results of the check be it in Immigration Service Office or in TPI shows that there are indications of non-procedural Indonesian Migrant Workers, immigration officers have the authority to reject their departure," Agung firmly said. (EN/Ditjen Imigrasi/ES)(RA/MMB/YM/Naster)