Gov't Issues Presidential Regulation on Quarantine Agency
By
Office of Assistant to Deputy Cabinet Secretary for State Documents & Translation &nbsp &nbsp
Date
14 September 2023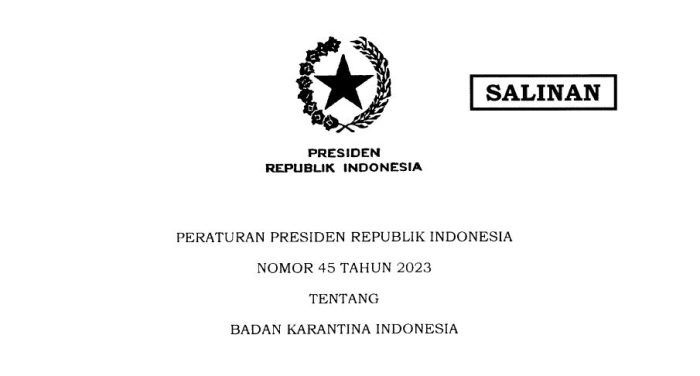 President Joko "Jokowi" Widodo Wednesday (09/14) at the State Palace, Jakarta inaugurated Sahat Manaor Panggabean as  Head of the Indonesian Quarantine Agency (Barantin).
The agency is a government institution established based on the Presidential Regulation number 45 of 2023.
As stated in the regulation, the agency is a government institution responsible for administering government functions in the field of animal, fish, and plant quarantine.
The establishment of the agency is based on of the Government Regulation Number 29 of 2023 Article 336 on the Implementation of Law Number 21 of 2019 on Animal, Fish, and Plant Quarantine.
In carrying out government tasks in the field of quarantine, the agency has six function, including the formulation, determination, and implementation of technical policies in the field of quarantine.
The agency's organizational structure includes Head of Barantin, Chief Secretary, Deputy Head for Animal Quarantine, Deputy Head for Fish Quarantine, and Deputy Head for Plant Quarantine.
According to the provisions in the regulation, in performing its tasks and functions, the agency coordinates with other government institutions and regional governments related to quarantine operations.
"By the time this regulation comes into effect, provisions regarding the Agricultural Quarantine Agency as stipulated in Presidential Regulation Number 117 of 2022 on Ministry of Agriculture is revoked and declared null and void," the regulation reads. (UN) (AP/EP)