Gov't Issues Regulation to Speed Up Regional Spending on COVID-19 Handling
By
Office of Assistant to Deputy Cabinet Secretary for State Documents & Translation &nbsp &nbsp
Date
29 Juli 2021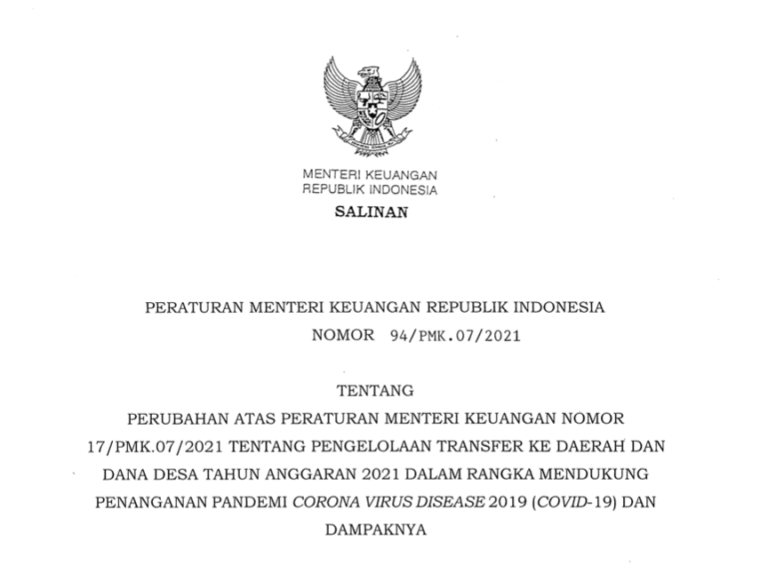 In a bid to speed up the distribution of social assistance in the regions, Minister of Finance has issued Regulation Number 94/PMK.07/2021 on Amendment to Finance Minister Regulation Number 17/PMK.07/2021 on Regional Transfer Funds and Village Funds to Support COVID-19 Handling.
"The essence of the Regulation covers three sectors. One of which is that we provide relaxation to the distribution of Village Funds to significantly improve the distribution to beneficiary families (KPM)," Ministry of Finance's Director General for Fiscal Balance Astera Primanto Bhakti said, as quoted by the Ministry's official website on Thursday (29/07/2021).
Prima said that the existing distribution rate for village cash transfer is still very low. Out of the targeted allocation of Rp 28.8 trillion, only around Rp 6.1 trillion has been distributed. He also said that there has been a downward trend in the number of recipients of the village cash transfer in the recent months.
"To solve the problem, we provide a relaxation on requirements to receive the cash transfer. Now, the beneficiaries are allowed to receive the cash transfer for several months at once," Prima said.
Prima went on to say that the village cash transfer is a priority program for the allocation of the village funds and villages may add the beneficiaries according to the mechanism regulated by the Government.
Regarding the national vaccination drive, Prima said that the Government will allocate the budget from the general allocation funds (DAU) to the Indonesian National Defense Forces (TNI) and the Indonesian National Police (Polri) to support the vaccine rollout.   
On that occasion, Prima also appealed to regional governments to regularly submit report on regional budget refocusing.
"We will open a monitoring system and, in addition to receiving regular reports submitted on a monthly basis, we will assign an account representative to every region to review regional governments' updates on the refocusing and spending on COVID-19 handling, including spending on health sector, social assistance, and economic support, especially for MSMEs," Prima concluded. (PR of Ministry of Finance/UN) (RI/MUR)