Gov't Launches Policy Package to Boost Property Sector
By
Office of Assistant to Deputy Cabinet Secretary for State Documents & Translation &nbsp &nbsp
Date
24 Juni 2019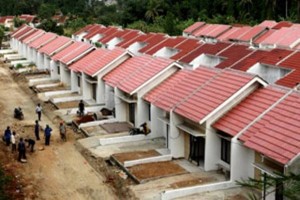 In a bid to boost investment in property sector, the Government has issued a five-point policy package, Head of Finance Ministry's Fiscal Policy Agency Suahasil Nazara announced on Friday (21/6).
The five-point policy package comprises limit adjustment of Value Added Tax (VAT) exemption of simple houses based on areas, VAT exemption for houses/buildings affected by natural disasters, increased limits on the value of luxury occupancy subject to Income Tax (PPh) and Sales Tax on Luxury Goods (PPnBM) from Rp5-10 billion to Rp30 billion, reduction in Income Tax in Article 22 on luxury houses from 5% to 1%; and simplification of PPh validation procedures for land/building sales from fifteen days to three working days.
According to Suahasil, property sector in macro economy is treated investment since it is considered a long-term item that generates multiplier effects and is related to many services and industries that drive the country's economy.
"If we want to boost investment, we must pay attention to property sector as an attractive economic magnet that generates multiplier effects. The property sector deals with almost all sectors that are of particular importance to the economy. It is related with construction, financial services, trade, information and communication, corporate services, food, transportation, warehousing and other sectors," Suahasil said in a press conference in Jakarta.
Luxury properties also deserve incentives so developers have higher profits to build medium and simple houses, he added.
Also on that occasion, Suahasil explained the details of limits of fiscal incentives to boost investment in property sector as contained in the list of limits on simple house selling prices based on Regulation of Minister of Finance Number 81/PMK.010 of 2019 on Public House Limits, Pondok Boro (social home managed by the city administration) for Students and Student College Dormitory and Other Housing, in which the Submission is Exempt from VAT Imposition.
Regarding selling price of the PPN-Free Public House, it is classified into five zones. The first zone covers Java Island (excluding Jakarta, Bogor Depok, Tangerang, Bekasi) and Sumatera (excluding Riau Islands, Bangka Belitung, Mentawai Islands) from Rp130 ??million in 2018 to Rp140 million in 2019 and Rp150,500,000 in 2020.
The second zone covers Kalimantan (excluding Murung Raya Regency and Mahakam Ulu Regency) from Rp142 million in 2018 to Rp153 million in 2019 and Rp164 million and 500 thousand in 2020.  The third zone covers Sulawesi, Bangka Belitung, Mentawai Islands and Riau Islands (excluding Anambas Islands) from Rp136 million in 2018 to Rp146 million in 2019 and Rp156,500,000 in 2020.
The fourth zone covers Maluku, North Maluku, Bali and Nusa Tenggara, Greater Jakarta (Jakarta, Bogor, Depok, Tangerang, Bekasi) and Anambas Islands, Murung Raya Regency, Mahakam Ulu Regency from Rp148,500,000 in 2018 to Rp158 million in 2019 and Rp168 million in 2020, and the fifth zone covers Papua and West Papua from Rp205 million in 2018 to Rp212 million in 2019 and Rp219 million in 2020.
For the record, the 2018 selling price limit is regulated in Regulation of Minister of Finance Number 113/PMK.03/2014, while the determination of the 2019 and 2020 selling price limits are based on inputs from Ministry of Public Works and Public Housing and takes into account inflation rate in housing sector. (Ministry of Finance PR/ES)
Translated by: Muhardi
Edited by: M. Ersan Pamungkas