Gov't Pushes for R&D at National Plantation Commodities
By
Office of Assistant to Deputy Cabinet Secretary for State Documents & Translation &nbsp &nbsp
Date
5 April 2019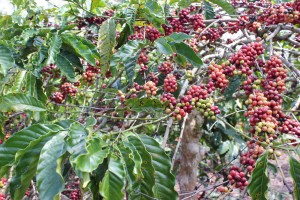 In a bid to improve quality of the country's plantation commodities such as coffee, cocoa, and tea, the Indonesian Government continues to encourage research and development in upstream and downstream sectors, according to Coordinating Minister for the Economy Darmin Nasution.
The move, he said, is expected to boost competitiveness of those commodities in the global market.
"Indonesia used to develop plantation commodity research in 1980s; yet, it stopped and did not continue. In fact, these commodities are very likely to give birth not only to businesses, but also entrepreneurs who can build the sector in the long term," Darmin said in his remarks at the Cho-choc Tea Night and Fun event which was part of a series of events Fertilizer and Mechanization in Plantation Seminar held by plantation research-based corporation PT Riset Perkebunan Nusantara (RPN), in Jakarta, Wednesday (4/4).
Darmin added that without research and development, plantation sector would not be able to reach optimal development. He also highlighted a number of populist-based plantation products that lack research and development to produce marketable commodities.
Conversely, according to Darmin, development of research is only found on plantations owned by large companies. To date, the development of research needed by the plantation sector is focused on research on the seeds, processing, and cultivation of the commodities, he added
"It would be a disadvantage if there were no development and research around smallholder plantations developed by large companies and if the Government did not take steps to pick up the slack. Therefore, we continue to encourage development and research in plantation commodities," the Minister said.
For the record,  coffee commodities last year covered a plantation area of 1,241,514 hectares, with the total production reaching 722,461 tons. This potential is a great expectation considering that the quality of Indonesia's coffee is currently categorized as specialty coffee, which has passed the process that meets the standards starting from upstream to downstream. Therefore, strengthening the upstream and downstream sectors of coffee plantations is one of the aspects that both the Government and private sector would continue to optimize.
As for tea, the production reached 141,342 tons from the plantation area of ??113,215 hectares in 2018. The potential for developing tea itself is very broad, not only for health but also for cosmetics.  Meanwhile, Indonesia's cocoa bean production reached 593,832 tons from the plantation area of ??1,678,269 hectares. This is a huge potential considering the quality of national cocoa that is known for its high taste, which is geographically based.
Darmin further said that processing sector deserves the Government's attention.
"We are aware that Indonesia has specialty coffee. If this commodity is processed properly, Indonesia will have its own signature coffee brand. So, plantation commodities need to be processed with high standards so as to be able to compete in the global market," he said. (Coordinating Ministry for the Economy PR/EN)
Translated by: Muhardi
Edited by: M. Ersan Pamungkas