Gov't Raises Alert to Face After-Quake Effects
By
Office of Assistant to Deputy Cabinet Secretary for State Documents & Translation &nbsp &nbsp
Date
28 September 2018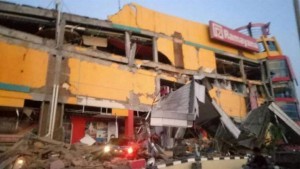 President Joko "Jokowi" Widodo has said that he will monitor and alert all related ministries as well as government institutions/agencies to anticipate any possibility following the quake and the Tsunami that hit Donggala Regency and Palu City, Central Sulawesi on Friday (28/9).
The statement was made by the President through his twitter account @jokowi and his Facebook account, which was uploaded shortly after the quake occurred.
According to President Jokowi, a series of strong earthquake hit Central Sulawesi region and felt in the surrounding area before sunset.
The President also called on the people to pray for the victims of the quake in Donggala Regency and Palu City. "We hope our brothers and sisters there remain calm and unharmed," President Jokowi wrote.
In the meantime, the Meteorology, Climatology and Geophysics Agency (BMKG) announced in a press release that a 7.4 magnitude earthquake has rocked in Donggala Regency on Friday (28/9) at 05:02:44 p.m. WIB (west Indonesian time) at a depth of 11 kilometers. While in Palu a 5.9 magnitude at a depth of 10 kilometers occurred at 5:25:07 p.m. WIB.
A series of earthquakes have actually occurred in Donggala since 2:00 p.m. WIB with varying magnitudes from 5.0 to 5.9. As quoted from kompas.com, until 9:00 p.m. WIB, the BMKG recorded that there had been 31 aftershocks centered in Donggala. (ES) (GWH/EP/Naster)