Gov't Ramps Up Efforts to Prevent Omicron from Entering Country
By
Office of Assistant to Deputy Cabinet Secretary for State Documents & Translation &nbsp &nbsp
Date
6 Desember 2021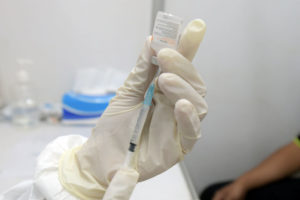 As the World Health Organization (WHO) urged all countries to intensify genome sequencing, prepare health facilities, restrict public activities, and speed up vaccination drive to vulnerable groups to tackle the spread of Omicron variant, the Indonesian Government is set to kick off COVID-19 vaccination for children aged 6-11 in near future since the new variant could pose greater threats to children.
In addition, Indonesia has increased the mandatory quarantine period to 10 days for all international arrivals besides those from 11 countries which have been banned to enter Indonesia, such as South Africa, Botswana, Namibia, Zimbabwe, Lesotho, Mozambique, Eswatini, Malawi, Angola, Zambia, and Hong Kong.
Coordinating Minister for Economic Affairs Airlangga Hartarto, Monday (12/06), also said that the Government is preparing a scheme to administer booster shot starting next year. The implementation of the policy will be further regulated under a Regulation of Ministry of Health.
"We are on a finalization process to arrange vaccination scheme consisting of those for recipients of contribution assistance (PBI) [low-income patients whose premiums of BPJS Kesehatan are fully paid by the state] and non-PBI participants," he said.
He went on to say that the national COVID-19 vaccination rate of the first dose has reached 68.42 percent, while the second dose at 47.55 percent out of the total target population. However, there are nine provinces with vaccination rate of the first dose below 50 percent; namely West Sulawesi, South Sulawesi, North Maluku, Central Sulawesi, West Papua, Papua, Maluku, Southeast Sulawesi, and Aceh.
On that occasion, Airlangga also said that ahead of this year's Christmas and New Year holidays, provisions on public activity restrictions (PPKM) will be based on advice from the WHO which is projected in the instruction of Minister of Home Affairs.
"Mall and restaurants can open at a 75 percent capacity. There are also public activities [gathering] that are only allowed to be held with participants of no more than 50 people. Travel is allowed for vaccinated person," he said.
Regarding the preparation of G20 events, he added, it will adopt bubble system at the venues and hotels. All participants of the events are obliged to use PeduliLindungi surveillance app and take antigen test every day.  (FID/UN) (RAS/MUR)