Gov't Regulation 27/2021 to Facilitate Capture Fisheries Business: Gov't Official
By
Office of Assistant to Deputy Cabinet Secretary for State Documents & Translation &nbsp &nbsp
Date
6 Maret 2021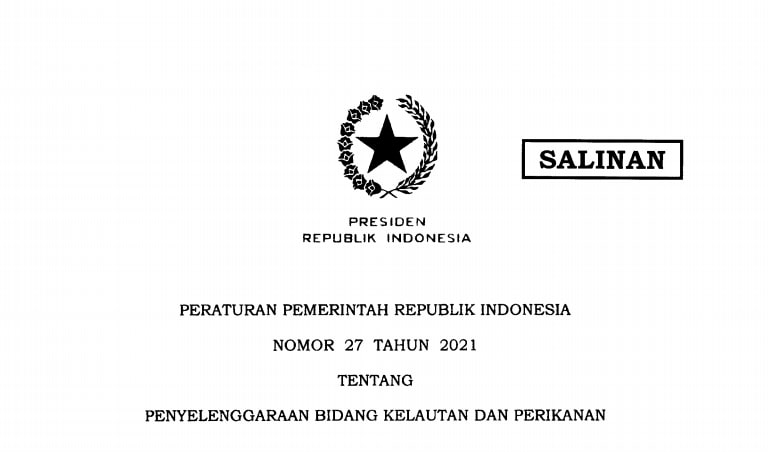 The issuance of Government Regulation Number 27 of 2021 on Business Process in the Maritime and Fisheries Sector will provide ease of doing business, including for capture fisheries licensing, Acting Director General of Capture Fisheries of Ministry of Maritime Affairs and Fisheries Muhammad Zaini has said.
The Regulation, which is one of the implementing regulations of Law Number 11 of 2020 on Job Creation, will bring a positive impact on the management of capture fisheries sector because the permit for approval of the name, measurement and worthiness of fishing vessels, as well as management of fishing vessels crew members, is under the authority of Ministry of Maritime Affairs and Fisheries.
"Business entities will find it easier to manage fishing vessel permits. All processes from the proposal of vessel construction to the certification of fishing vessel crew members are integrated into Ministry of Maritime Affairs and Fisheries," Zaini said, quoted by Ministry of Maritime Affairs and Fisheries website, Saturday (06/03).
As for the construction, modification and import of fishing vessels, Zaini added, business entities must obtain prior approval from Minister of Trade if domestic shipyards are unable to produce vessels in accordance with the stipulated technical requirements.
"The approval will also take into account the availability of fish resources, age of fishing vessels, and size of fishing vessels. Most importantly, the vessels must not carry out IUU [Illegal, Unreported, and Unregulated] fishing activities," he explained.
Regarding the member crews of fishing vessels, the Directorate General of Capture Fisheries will join hand with the Maritime and Fisheries Research and Human Resources Agency (BRSDMKP) in terms of education, training and certification.
"We will ensure that fishing vessel crew members are protected before, during and after work, not only in term of legal aspect but also in term of social security. We will stipulate it in a Ministerial Regulation," Zaini added.
The licensing reforms are consistent with the directives of President Joko "Jokowi" Widodo, and aim to facilitate people who want to do business and accelerate economic transformation, especially in the maritime and fisheries sector. (Public Relations of Ministry of Maritime Affairs and Fisheries/UN) (RI/MUR)