Gov't Revises Eid Holiday Period to Prevent Severe Exodus Congestion
By
Office of Assistant to Deputy Cabinet Secretary for State Documents & Translation &nbsp &nbsp
Date
29 Maret 2023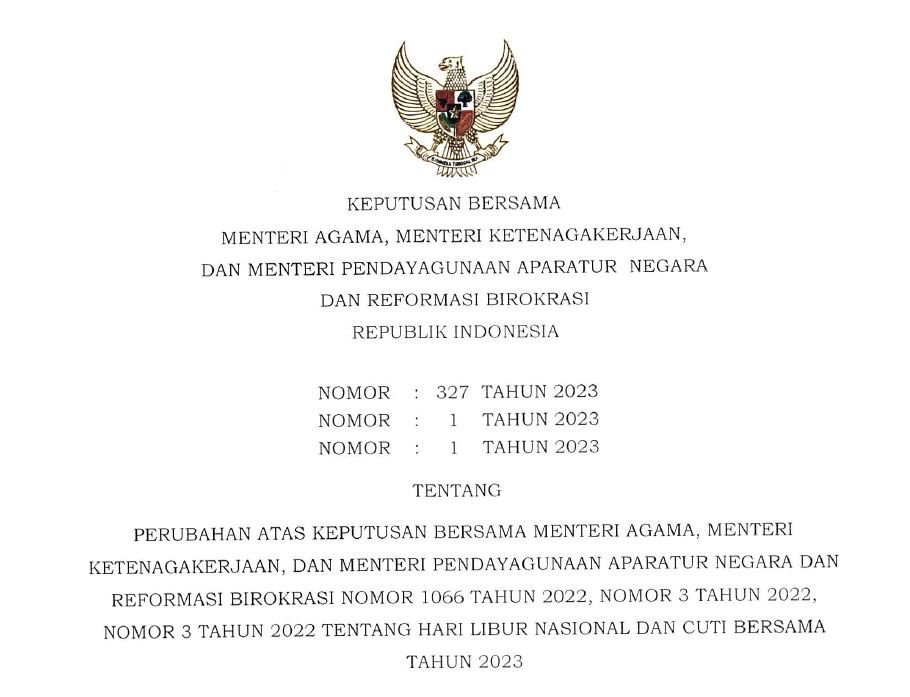 To prevent severe congestion during the peak of this year's Eid mudik (exodus ahead of Eid Day) season, the Government has announced a change in the schedule of this year's Eid's holidays and collective leave period.
The Government reached the decision during a recent ministerial coordination meeting, issuing a new a Joint Ministerial Decree between Minister of Religious Affairs, Minister of Manpower, Minister of State Apparatus Empowerment and Bureaucratic Reforms.
"Minister of State Apparatus Empowerment and Bureaucratic Reform, Minister of Manpower, and Minister of Religious Affairs have signed the amendment to the Joint Ministerial Decree on National Holidays and Collective Leave in 2023," Coordinating Minister for Human Development and Culture Muhadjir Effendy said in a statement, Wednesday (03/29).
Based on the decree, Muhadjir said that this year's Eid holiday that initially falls on April 21, 24, 25, and 26 are now on April 19, 20, 21, 24, and 25.
"In this case, joint holidays are moved forward and one day is added on April 19, 2023," he said.
Muhadjir added that the change aims to give the people more room to return to their hometowns earlier to avoid traffic.
"According to an annual survey conducted by Ministry of Transportation, it is estimated that a total of 123 million people is expected to join the exodus, higher than that of last year's survey at around 85 million people," he said.
The Minister also urged relevant officials to ensure smooth exodus this year.
"I appeal to officials, especially those from Ministry of Transportation, the Indonesian National Defense Forces (TNI), the Indonesian National Police (Polri), and other related institutions to periodically monitor community mobility during the holidays so controlling the exodus can run well," he added.
Muhadjir also expressed hope that the public could use additional joint leave period to make better planning to avoid severe traffic jams and discomfort.
"We hope this year's exodus will be a comfortable and memorable one," he said. (UN) (RIF/EP)