Gov't Strengthens Role of Community Health Centers during PPKM Mikro
By
Office of Assistant to Deputy Cabinet Secretary for State Documents & Translation &nbsp &nbsp
Date
16 Juni 2021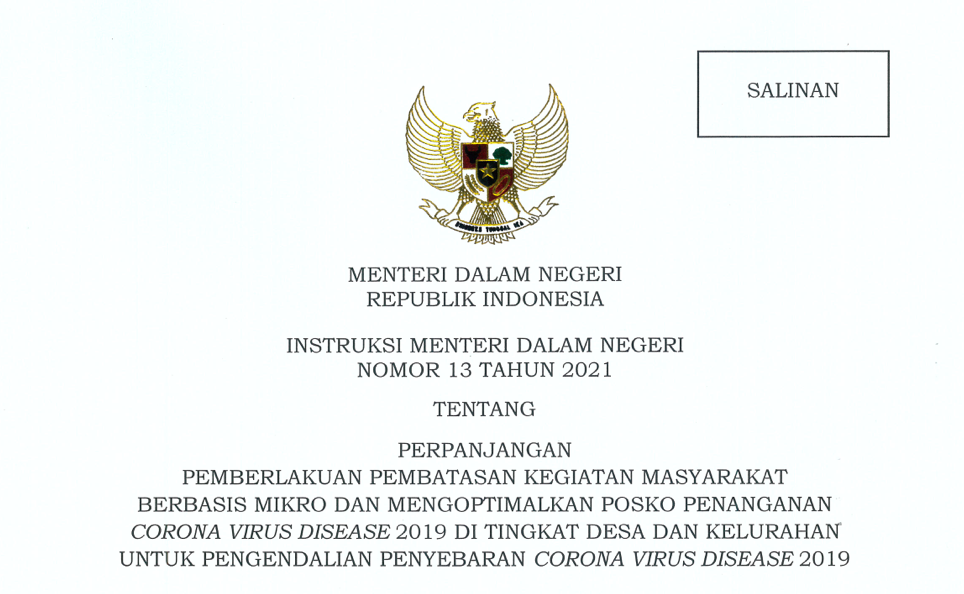 Minister of Home Affairs Muhammad Tito Karnavian issued Instruction of Minister of Home Affairs Number 13 of 2021 on Extending the Micro-Based Public Activities Restrictions (PPKM Mikro) and Optimizing COVID-19 Handling Posts at the Village and Sub-District Levels to Control the Spread of COVID-19.
The Instruction regulates that the PPKM Mikro will be extended from 15 to 28 June 2021.
During the PPKM Mikro, the role of community health centers (puskesmas) is more vital as a health service facility that organizes public health and first-level individual health, by prioritizing promotive and preventive efforts to achieve public health. The puskesmas are involved in efforts to prevent the transmission of COVID-19 in the community.
"There are several issues regulated in the PPKM Mikro, that is, among others, strengthening the role of puskesmas to increase tracing and testing," said Acting Director General of Regional Administration Development of Ministry of Home Affairs Suhajar Diantoro on Wednesday (16/6).
Meanwhile, as written in point thirteen (a) of the Instruction, regional heads are urged to disseminate PPKM Mikro to the people in their areas and if there are violations, sanctions are imposed in accordance with the provisions of the rules and regulations. Regional heads are also asked to intensify 5M enforcement (using masks, washing hands, maintaining distance, avoiding crowds, and reducing mobility), as well as strengthening 3Ts (testing, tracing, and treatment).
In addition, the Instruction also regulates restrictions and tightening of public activities in public facilities / tourist attractions / parks by implementing obligations: application of antigen / genose test screening for paid facilities / indoor tourist sites; strict application of health protocols in public facilities / outdoor tourist sites.
It also emphasized that for areas in the Orange Zone and Red Zone, community activities in public facilities / tourist attractions / parks are prohibited and further arrangements are handled by the local governments in coordination with the Regional COVID-19 Handling Task Force. If there is a violation, law enforcement is carried out in the form of closing the location in accordance with the provisions of the rules and regulations.
The Minister of Home Affairs also opens opportunity for local governments that will implement policies to enforce special criteria and requirements on the 2021 Holidays. They can follow up on them as long as they do not conflict with regulations / guidelines issued by relevant ministries / agencies and the COVID-19 Task Force.
The extension of the PPKM Mikro also mandates the role of village elements as the activity is carried out through coordination between all elements of community.
Villages / districts are asked to establish village and district-level command posts for areas that have not yet established the post. Meanwhile, for areas that have established command posts, they are asked to optimize their roles and functions and ensure the implementation of control at the micro level or the neighbourhood unit (RT) scale.
Through the post at the village / district level, it is hoped that the restrictions on community activities will be more controlled. This control model is also considered quite effective in suppressing positive cases.
"These posts are expected to be the spearheads to help activities and our foremost assistance in controlling the pandemic," said Suhajar.
Suhajar explained that from approximately 76 thousand villages / districts in Indonesia, as many as 39 thousand villages were reported to have established village / districts level posts. He also expressed hope that all command posts be active to support the government's program in controlling the pandemic.
"Based on the available temporary data, there are active command posts, but some others are still not active yet. In the future we will continue to update, both the number of posts and their activities. We hope this can help us [the Central Government]," he said.
By activating the command post at the village / district level, it can reflect the spirit of mutual cooperation in implementing the PPKM Mikro to the smallest level. Consistency and togetherness in making efforts to control the pandemic hopefully can suppress new active cases. (PR of Ministry of Home Affairs / UN) (EST / LW)