Gov't to Allocate Extra Hajj Quota for Elderly Pilgrims
By
Office of Assistant to Deputy Cabinet Secretary for State Documents & Translation &nbsp &nbsp
Date
26 April 2019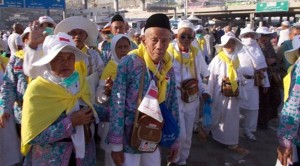 The Indonesian Government will prioritize elderly hajj pilgrims to be included in the 10,000 extra hajj quota given by the Government of the Kingdom of Saudi Arabia in the 2019 hajj season, Minister of Religious Affairs Lukman Hakim Saifuddin has said.
"Elderly hajj pilgrims are the priority for the extra hajj quota. I have instructed regional offices and local offices of Ministry of Religious Affairs to provide information for elderly pilgrims who mostly live in remote areas in Indonesia," the Minister said after a meeting on the follow-up of this year's extra hajj quota in Jakarta, Friday (4/26).

Lukman went on to say that the allocation of the 2019 extra hajj quota is based on the waiting period data available in each province and the data shows that the longest hajj waiting period is 30 years (in South Kalimantan province and South Sulawesi province).
The extra hajj quota, he said, was available right before this year's hajj season so it had an impact on the configuration of hajj pilgrim groups. "Other impacts (of the extra hajj quota) are related to the zoning system that requires policies to evenly distribute hajj pilgrims in each province based on the waiting period," the Minister said.
For the record, the results of the meeting will be discussed with the House of Representatives (DPR), the Hajj Fund Management Agency (BPKH) and other related government ministries/institutions.
Translated by: Ridwan Ibadurrohman
Edited by: Ersan Pamungkas